How to Align Your Social Media Strategy with 6 Key Volunteer Motivations

 
Using social media to recruit and retain the right people for your volunteer needs means understanding their individual volunteer motivation more effectively.  
We've discussed the importance of nonprofits stepping up their outreach and marketing before. Here, we present some tactics you can put to work in doing so.  
Even if you don't know volunteers personally, you can drive more traffic to boost your social media comments and likes of your Facebook posts by speaking to your ideal volunteers' emotions and begin persuading them to act. 
Researchers have identified six personal and social functions served by volunteering. These are the handful of emotional and functional needs people aim to fulfill through their service.  
These functions are vital to understand because they are powerful drivers of behavior. Appealing to the appropriate motivation may influence decisions about becoming a volunteer in the first place and continuing to serve over time. 
6 Functional Volunteer Motivations
 The six motivations, listed below, are key drivers of satisfaction of volunteers.   
Simply put – when they are met, the volunteer is more likely to stay. When they are not met, they are more likely to leave. 
Not all volunteers have the same motivations, and their motivations may change over time. In general, most volunteer teams are driven by 2-3 top motivators. So, if you diagnose which are the most common in your team, you can make smarter decisions about how, and what, to communicate with them. 
For volunteer recruitment, messaging around your ideal volunteer's top motivators in your social media can also help you get better traction in your marketing efforts. 
Values – where the volunteer sees participation as an opportunity to meaningfully serve 

others

 

Career – participant views the opportunity as 

facilitating

 advancement & networking in their industry or field of 

work

 

Social – in which the participant receives a measure of acceptance & acknowledgment from

peers

 
Understanding – the volunteer gains knowledge or insight from the experience that would be hard to come by 

otherwise

 

Protective Motives – being a participant ensures 

they'll

 be in emotionally supportive 

settings

 

Enhancement – volunteerism promotes leadership development and their 

perception

 of 

power

 
As an example, a volunteer who is motivated in the Career category would be best satisfied with an experience where the position enables them to develop specific skills. They're wanting to add or enhance skills that can be applied to their current or future paid employment. They might also be interested in networking with others connected to their field of interest and trying out stretch assignments and projects that they can then add to their resume or portfolio.  
6 Evidence-based Volunteer Motivations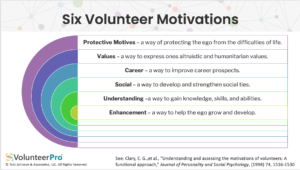 Volunteer Motivations in Action
There are a few strategic ways you can approach leveraging volunteer motivation in social media, but you've got to first understand which to focus on and how to use them. 
 Below are some tips and things to think about. 
Pinpointing the Motivations of Your Current Volunteers
The quickest route to finding what motivations that your organization can best satisfy and leverage through social media is to ask your current volunteers. This will help you create social media messaging to current volunteers and prospective candidates in a way that speaks to their wants and needs. 
In doing so, you might ask:  
What motivated you to volunteer?

 

What do you like most 

about volunteering with us

?

 

How is your life better because of volunteering?

 

Why does volunteering make sense in your life or align with your personal goals?

 
For more ideas on specific questions that give great insight on these valuable supporters, see our blog on The Importance of Volunteer Pulse Surveys.  
You can also use some of the survey questions here to pinpoint the key drivers for your team.  
Meeting Volunteer Needs
Another way to determine which volunteer motivations your organization can address and communicate in its social media is to evaluate the opportunities available for what needs they might serve.  
For instance, projects that result in a deliverable may appeal to someone in the Career motivation category. Helping with client activities could appeal to Social motives. Roles that include learning might appeal to those with Enhancement motives. 
When you can clearly articulate which motivations your volunteer opportunities fulfill, you're closer to creating persuasive messages for your social media.   
In addition, you'll want to connect the volunteer positions you can offer to some likely outcomes that fit your prospects' motivating factors. Rather than saying you have a need for two administrative volunteers, you start thinking in updated terms like … "We have two opportunities for volunteers who are wanting to develop skills in scheduling and logistics." 
Expectations & Motivations
It's important not to oversell potential outcomes, though, if the volunteer role won't actually benefit someone in the way you're stating. So, be honest about what you can, and cannot deliver. 
Much of our expectations in the work (and volunteer) world are based on promises we think others have made to us. Keeping the promise you've made – or implied – is an effective way to build trust and retain volunteers over time. 
It's imperative to understand and surface what expectations volunteers bring to the table. Mapping these will also help leaders of volunteers recruit and better understand how to recognize and reward volunteers by meeting their needs. What you're offering must be congruent with the training offered and responsibilities afforded. 
By identifying and focusing your communications on the motivations that drive your team, you will be better equipped to develop social media messages that truly resonate. 
Volunteer Motivations: Developing the Right Social Media Messages
Having identified your opportunities and the volunteer motivation categories they can fulfill; you will have a better idea of the best wording to guide your social media messaging.  
Increasingly, simple, and direct is the best way to communicate in the digital world. So, don't overthink things. We encourage your use of our thesis formula to keep your messaging simple and on-track. 
Thesis Statements
Each thesis should describe one big reason why volunteers should join your cause and how their involvement will make an impact in a way they care about. It should address a key volunteer "problem."   
This thesis will guide you as you develop the rest of your recruitment campaign messages for social media and beyond. (Note: See more on what we mean by "problem" below and in our Essential Guide to Managing Volunteers at Your Nonprofit.)  
Thesis Formula:
Any [type of volunteer you seek] can [solve their problem] by volunteering for your cause because [how it solves their problem]. 
For Example:
"Anyone who cares about our neighborhood health can help keep it clean and green by volunteering for the West Town Greenway — we will show you how to educate kids on effortless ways to reduce pollution." 
Problems You Solve
In addition to crafting messages that speak directly to your ideal volunteer persona, messaging aimed at recruitment and retention should be focused on your nonprofit's ability to meet volunteer needs.   
The graphic below shows each motivator in a circle. Below that is an example of the 'problem' that working with you can resolve for that individual. Use examples from your organization to fill in the 'how' as in the example above.  
Aligning Volunteer Motivations and Problems You Solve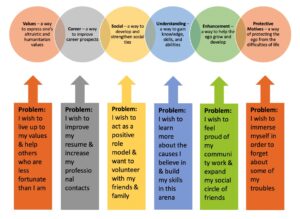 Show Your Feelings
Social media posts are more effective when they feel human and real.  
Make sure to appeal to emotions when putting together your messaging. Tactics include using pictures or power words that evoke emotion.  
Research has also shown that the following words light up the brain and are the most effective in promoting action. However, you must understand why these words are persuasive to use them in the contexts that make sense for your audience. 
You – write as though 

you're

 speaking to the potential volunteer and not about 

yourself

 

Free – getting something for free excites people and creates the desire for 

more

 

Because– explain why volunteers are needed or why the nonprofit does what it 

does

 

Instantly or Immediately – let them know when 

you'll

 be in touch, when they can start, or how fast they can make a 

difference

 

New – can be a new program, initiative, project, campaign, or training 

cycle

 
Find ways to integrate these words into your calls-to-action and headlines to bump up their effect. Think about how you can use these words to encourage community, increase urgency, or promote social sharing. 
Engagement
In addition to meeting their primary motivations, volunteers also need to know, like, and trust you before they will act for you.  
The good news is that engaging social media posts can help. 
 You want two-way engagement to help a relationship with followers and the community at large.  
To learn more about what drives your volunteers, schedule time to listen and respond to people's interactions in your social channels.  
Also, think about specific topics that support greater connection in each area. 
Persuasion Formula
Perhaps you've heard of the K, L, & T factor in business? People do business with organizations that they Know, Like & Trust. These same factors apply when interacting online or deciding to volunteer. People will gravitate to organizations that have familiarity, match their values and are consistent. 
The Know, Like & Trust Factor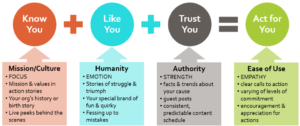 In the case of recruiting volunteers via social media, you'll want to be interjecting stories of current volunteers, showing pictures of their work and their recognition throughout the year. This keeps the idea and emotions consistent and familiar to your audience.  
Active engagement online, and real responses, helps build trust. 
Calls 
to
Action
A particularly important part of the persuasion formula is the Call To Action (CTA). All the knowing, liking and trusting is just warm feelings without action!  
Make sure to let people know what it is you want them to do with and for you. Not every CTA should be "Come volunteer with us!" Start with small asks, like 'share this post' or 'give us a thumbs up if you agree.'  
Offer some value in return for their attention.  
Perhaps offering a download that can educate prospective volunteers about your cause would be something they find valuable enough to exchange their email address. You can build to "Sign up for our newsletter." Then, once the relationship becomes closer, your larger ask will be more warmly accepted.  
A Final Note on Digital Channels 
Social media can mean anything from a Facebook post to a Facebook Live and a video on TikTok. Do not be intimidated by the variety of platforms!  
We strongly recommend that you focus on only 1-2 and build your messaging around them. If possible, include volunteer quotes or testimonials to offer proof that the "problem" is "solved," or the need met. 
As for what to post, you'll have to decide what works for your organization and audience. We offered additional guidance for catching the eyes of your prospects online in this recent blog post.  
Once you've caught their attention, find ways to steer any relevant story to a specific volunteer motivation, as suggested here:  
Your organization's history (our birth story) – Values

 

Customer or volunteer interview – Enhancement

 

Volunteer or intern appreciation – Career

 

A volunteer's story – Protective

 

An event – Social

 
Finally, don't worry about repeating yourself and your key topics. Social media appears in newsfeeds according to the platform's algorithm. So, not all your messages will be delivered.  
But keep at it and stay focused on volunteer-centric messages and you will do fine. Volunteer recruitment is your first step in a long fruitful relationship with your volunteers. But you also need to keep them coming back. The less volunteer turnover you have, the easier the volunteer recruitment job will be in the future.  
So, you'll need to set a plan to communicate and build trust. Social media can help, and all the concepts discussed above can now be used for social media posts aimed at engaging existing volunteers and communicating your needs.  
When volunteers know what you want from them, and you know what they need from you, they are more engaged, and you get better results! 
Next Steps: What Do You Do Once You've Recruited Your New 
Volunteers?
Enjoying deep volunteer engagement and commitment isn't magic! It does take a smart strategy, beyond simply social media, though.  
The good news is that we've got you covered.  
Check out our free FREE Mini Course – The Art & Science of Volunteer Accountability.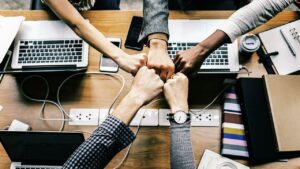 Learn how to harness the science of trust for better more effective supervision and deeper connections with volunteers. Plus, get our free [Cheat Sheet] Five Common Myths & Mindsets About Volunteers and our popular Miracle Mindset Worksheet to build enabling beliefs that can help propel you forward.