Volunteer Matching: Finding the Right Role for Every Volunteer
Most organizations don't spend a lot of time and consideration on their volunteer matching.  
Instead, they use a one-size fits all approach to assigning work to new recruits based on the organization's most pressing needs at the time. 
While this may feel expedient, matching volunteers with roles that don't fit is a recipe for high turnover and added volunteer recruitment work. 
Volunteers aren't robots that come off an assembly line. Each is an individual human with unique skills, capabilities, needs, and desires. 
When volunteer-driven organizations make it a point to engage in purposeful volunteer matching, they have a better chance for scaling their efforts with a happy workforce.  
If a volunteer role fits like a glove, that supporter is more apt to experience high satisfaction and the organizations is more likely to enjoy higher retention rates. 
So, the investment in time and attention pays dividends. 
Plus, it's simply a more human-centered approach.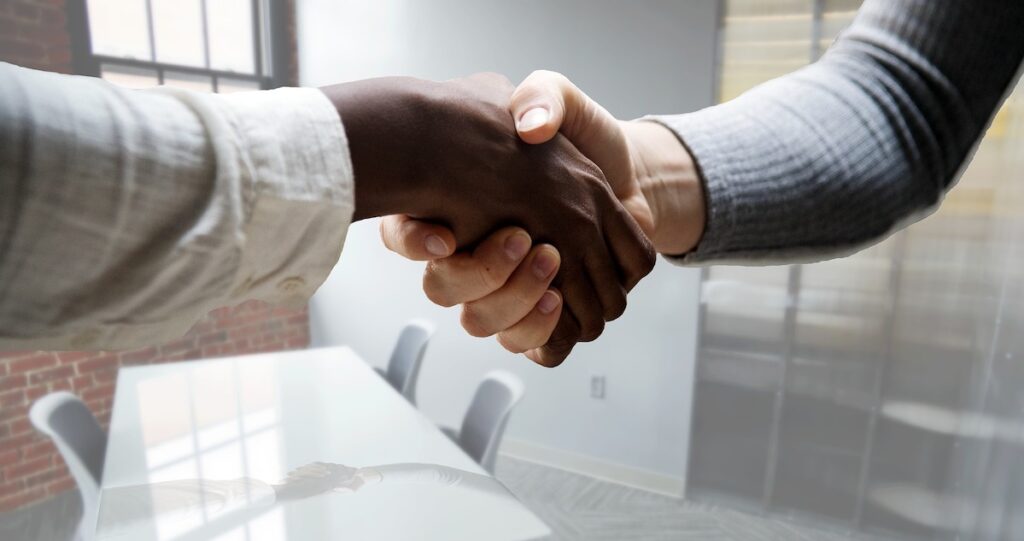 Volunteer Matching by Pinpointing Volunteer Motivations
Although volunteer interviews are often viewed as a way to screen volunteers out to mitigate risk, they serve a more important function.  
They are a powerful opportunity to better understand the motivations of the volunteer applicant. This not only helps inform whether they may be a good fit, but also what might keep them motivated further on down the road. 
Volunteer interviews should be a two-way conversation. They are the first step in developing a potentially rich partnership. For this reason, they shouldn't be devoted entirely to your program needs.  
Plan to spend 50% of the time listening for the volunteer's wishes, hopes and expectations. Finally, interviews are also a great place to gently address any misconceptions or unrealistic expectations on the part of the volunteer. 
There are some critical pieces of information to learn about your applicant during an interview. 
Here are a few things to explore through your volunteer interview questions:
What are the Causes They Feel Passionately About?  
Volunteers who feel a close emotional connection to the organization's mission are more likely to become deeply engaged and stay. If they don't mention anything that closely resembles your mission, you may want to consider helping them find a better match elsewhere.   
What are Their "Must Have's" and "Non-Negotiables"? 
There is nothing more frustrating than being asked to do something you've specifically said makes you uncomfortable or that you don't have time for.  
Volunteers are not being paid and are not a temporary workforce. They are partners in actualizing your mission and, therefore, get to have a say in what they are assigned.  
Make sure you know your volunteers' taboos up front. It doesn't mean they won't evolve over time but start with what excites them. Also, be honest about any training requirements. 
Ask them what brings them the most joy.  
This conversation will likely shed some light on what motivated them to apply in the first place and will give you some ideas about how to thank them for their service.  
Keep those notes — you'll need them later when you're planning your volunteer recognition activities.  
Have They Met Your Minimum Qualifications? 
Establish your core requirements for specific volunteer positions, and don't be shy about communicating them.
If a volunteer doesn't meet the minimum qualifications and can't learn them easily, they will get frustrated and leave, wasting their time and yours.   
When would the like to incorporate volunteering into their lives? 
You'll need to know when a prospective volunteer has enough time to get started. This includes any time they need to set aside for training and orientation. Sometimes it takes busy people a few weeks or even a month to clear the decks to accommodate a new commitment. 
You also want to explore what days of the week and times they are available and what frequency of volunteering makes sense in their world. Does once a month or weekly sound more doable in their world? 
Often organizations assume volunteers will willingly bend to accommodate the organization's need. Sometimes that is the cause. But more often, today's busy volunteers are juggling several responsibilities and yet they still want to give back. 
Help them find a way to contribute, no matter how large or small, if you have the capacity to support them, and they are doing something that contributes to mission achievement. 
Consider matching volunteers with a buddy for job sharing, to lessen the load. As a team, they handle the task or role, and they decide together how and when it gets done and by whom. 
"Busy work" doesn't help you and doing irrelevant work doesn't feel great for volunteers who genuinely want to make a difference. 
What Skills Do They Have (and want) to Share? 
Try to design your volunteer program around a broad range of activities, from "menial" to highly skilled. By doing so, you will increase the opportunities for attracting volunteers, of all skill levels, to support your organization.  
Also, don't assume that just because someone has a skill, they want to put it to use. For example, an executive, who manages stressful corporate mergers all week long, may not be interested in developing partnerships for your organization.  
They may be more interested in something straightforward and relaxing, like doing data entry. Honor that. 
How Does the Volunteer React to Specific Situations? 
By asking volunteers to respond to questions about common situations that occur at your agency, also called behavior-based interviewing, you will have the opportunity to understand how each volunteer works, plans, problem solves and reacts to stress.  
This is important information to decide whether they are a suitable fit and, if so, what support they might need when they join the organization's volunteer corps. 
By investing a little time to get to know each volunteer, you'll have a better chance of understanding them on a human level. They will feel seen and understood, and you will be able to make a more educated decision about what roles to offer them that best meet their needs and preferences. 
For specific questions to ask, check out our free Volunteer Interview Questions Cheat Sheet HERE >> 
Volunteer Matching by Preferences & Availability
When a volunteer is hesitant to accept an invitation to serve, the most often heard objection is that "they don't have time." 
Time has indeed become one of the world's most valuable resources.  
Community members have choices when it comes to how they spend their leisure time. They might binge watch the hot new series their friends told them about, host a backyard bar-b-que for family, hot the guy, or spend a little alone time to rest and re-charge.  
Many people want to build meaningful activities into their lives, but either aren't sure how to go about it or are worried things like volunteering will dominate their calendars. 
If your organization want to get and keep volunteers, put the public at ease. 
Make sure you have a variety of opportunities to choose from that include short-term event-based roles to longer-term assignments. Give volunteers the opportunity to get to know your organization through shorter-term commitments and then grow into longer term roles.  
Paid employment comes before volunteering and has a higher priority in volunteers' lives, and rightly so. 
So, make sure that you have roles that match your volunteers' work schedules. If you only have roles that volunteers can take part in during the weekday, then you will limit the number of people who can serve. 
It's up to you to be more flexible than your volunteers. So, be creative about ways you can accommodate their talents. Not everyone will be an absolute perfect fit, and you need to plan for ways to accommodate. 
 Recruiters should not read into a volunteer's hesitation that they are not willing to help. Rather, be grateful that they are taking the invitation seriously enough to give it careful consideration.  
If you are unsure if the "no" is definitive, ask the applicant, "Is the issue you raised something that would keep you from volunteering now or in the future?" and "If we could accommodate your limitations, would you be willing to give it a try?" 
By asking follow-up questions, the recruiter can address any misconceptions on the part of the prospective volunteer and find ways to tailor opportunities to the volunteer's needs. 

Matching Volunteer Skills with Specific Roles
In order to match volunteer skills with open positions, the screening interview can be an important tactic. The interview is a two-way street — you are seeking candidates that meet specific minimum requirements as well as understanding the volunteer's wants and needs.  
To prepare for interviews, be sure you have identified the "need to have" and "nice to have" knowledge, skills and abilities for each volunteer role you are trying to fill.  
Include them in a volunteer positions description that is specific to each role. Also, give applicants a volunteer interest checklist, which can help home in on what volunteers are willing and eager to do, and use it as a starting point for discussion. 
Below are knowledge, skills and abilities that might be included in a volunteer position description, depending on the specific role: 
Basic Skills
Learning complex information and translating it into daily practice

 

Understanding the implications of added information to their volunteer role

 

Finding answers to questions using reliable resources

 

Managing one's own time and prioritizing tasks to achieve goals

 

Working with others, both as a leader and a follower

 

Maintaining a positive attitude

 

Completing required reporting and paperwork on time

 

Demonstrating commitment to the program

 
People Skills
Maintaining proper professional boundaries

 

Exhibiting compassion and caring for others

 

Listening attentively to others

 

Using self-care strategies to handle stress

 

Effectively teaching others to do something, one-on-one

 

Perceiving others' reactions and responding appropriately

 

Resolving conflict and addressing challenging behaviors

 

De-escalating angry people

 

Bringing others together to negotiate differences

 

Persuading others to change behavior

 

Accepting and learning from coaching and feedback

 

Exhibiting a responsive customer service orientation

 
Technical Skills
Using a computer (internet, software packages, social media, etc.)

 

Communicating information in a coherent way to groups

 

Developing relationships with community partners on behalf of the agency

 

Writing and designing communication materials using plain language

 

Analyzing and interpreting data and information

 

Solving complex problems

 

Using logic and reasoning to find the strengths and weaknesses of various alternatives

 

Speaking, reading and writing more than one language

 

Operating a vehicle safely (auto, van, truck, etc.)

 

Following the established protocols for a specific, assigned role

 
Not all volunteers are prepared and ready right from the start. 
 If you feel that a volunteer will be able to learn the minimum required skills within a reasonable period, find ways to support them in doing so.  
If not, look for other roles within your agency, or refer them to other organizations, that might be a better fit. 
For more on how to determine the right fit for a volunteer, check out Chapter 3: Volunteer Interview Questions for Better Matching of our Essential Guide to Managing Volunteers at Your Nonprofit HERE >> 
Because volunteers are contributing their time for free, they should be given both flexibility and consideration in the matching process. 
Take time to get to know their needs and preferences through interviews. Pinpoint the specific skills you need and assess whether the volunteer has, or can learn, them. Find ways to make volunteering work with their schedule.  
If you do all these things when matching volunteers, you'll be sure to build a self-sustaining team that be accountable, meeting their commitments, and have fun doing so.