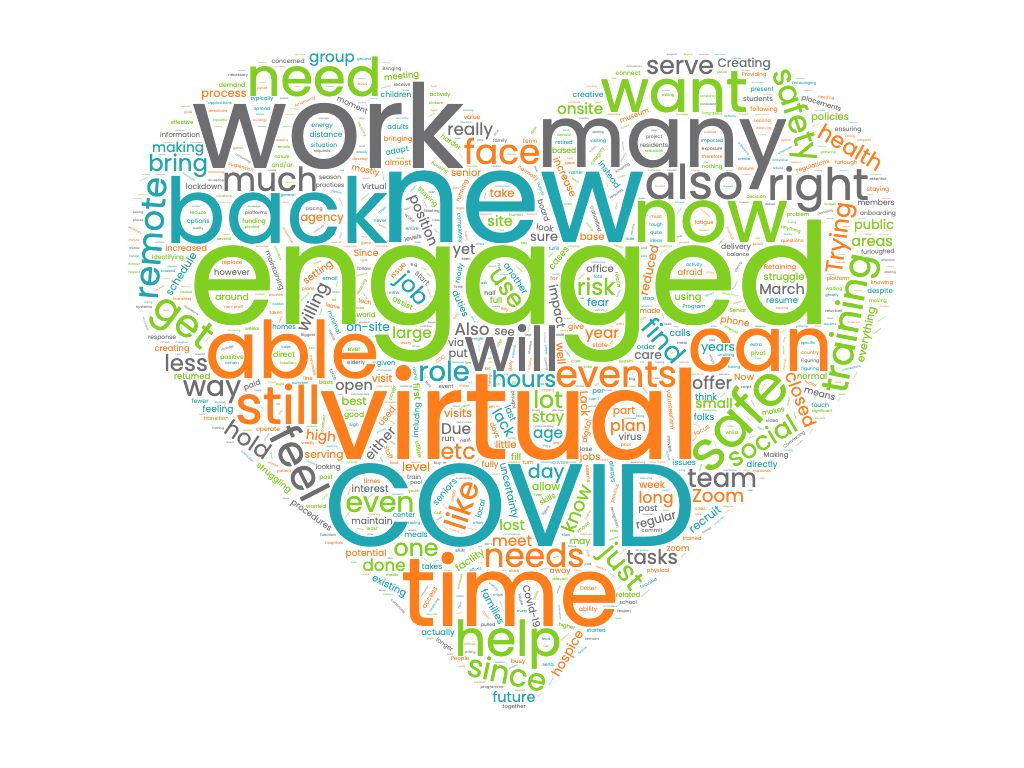 Volunteer Management Trends for 2021: Key Takeaways from 

Our

 Latest Research
Our latest Volunteer Management Progress Report is hot off the presses and ready with current data on volunteer management trends for 2021. 
We have just posted the 2021 Volunteer Management Progress Report – The COVID-19 Edition, and it is ready for download (get your free copy here). If you're wondering about the state of the industry or volunteer organizations, look no further.   
While we've written about our general observations about volunteer management trends in this blog earlier this year, you'll find the current developments and hard data to back it up in our report.   
Tracking Volunteer Management Trends for Six Years Running
For the past six years, we have collected data on volunteer management trends and practices through a global state-of-the-industry survey. We distribute it through the online training side of our operations, the VolunteerPro website, and with the generous help of a global network of distribution partners.  
Each year, we focus on a timely topic for the survey, and this year was no different.  We designed the questionnaire to explore the impact of the COVID-19 pandemic on volunteer managers and volunteer organizations was an obvious choice. 
In the Fall of last year, we collected responses from 1,315 volunteer managers from around the world. While the majority (70%) of respondents were from the United States, we also received responses from Canada, the United Kingdom, Australia, Ireland, Bangladesh, Brazil, Colombia, Egypt, Estonia, India, Italy, Malaysia, New Zealand, Netherlands, Nigeria, Norway, Portugal, Puerto Rico, Singapore, Spain, and Switzerland. 
While the respondent pool does not represent a random sampling of leaders of volunteers, for many it was the first time they had participated in the survey.  This indicates to us that each year's results are not the exact same group of people. In addition, the size of the data set, and the consistent themes and trends we see year over year, indicate that the results have value and even point to additional areas of exploration for scholars. 
Perhaps what is most interesting, is that the experiences are similar around the world. The key triumphs and challenges are similar, as evidenced by the surveys open-ended comments and consistent themes. 
This year, however, we show evidence of a major disruption in the operations and key challenges of volunteer-driven programs as a result of the COVID-19 pandemic.  At the onset, we were unsure of the full impact of the pandemic.   
In the end, these data show monumental shifts in the volunteer management trends of 2021 and there is evidence that some of these practices and innovations are here to stay.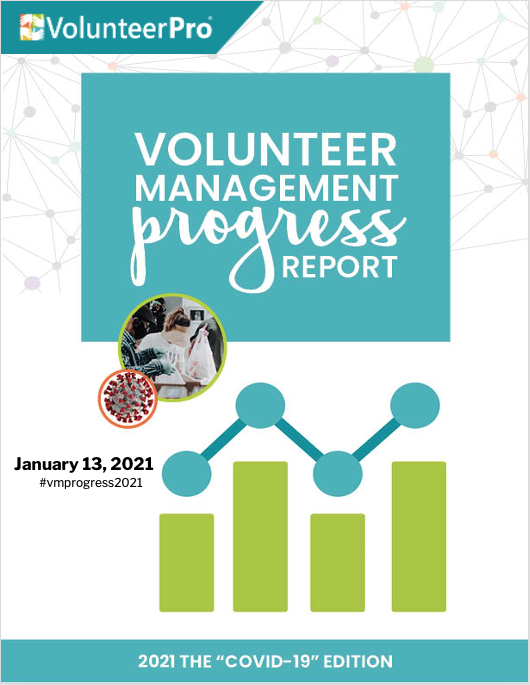 Our Top 5 Volunteer Management Trends for 2021: Survey Results
As a preview to the full report, here are the top trends we discovered through our analysis of the data. 
Trend #1: A Homogenous Workforce of Volunteer Managers – One of the volunteer management trends that did not change this year is the demographic makeup of those who lead volunteers. The characteristics of respondents have been consistent over six years, even with expanded participation from countries outside the US. 
Volunteer managers continue to be white (84%) women (88%), a trend that has persisted for six years. The demographics of the US responses represent less diversity than recent data on employees that work in the US nonprofit sector as a whole which, in turn, is less diverse than the general population. While the field continues to be multi-generational, it is also becoming younger over time as professionals age out. 
Trend #2: Evidence That the Volunteer Manager Workforce is Still Strong – Despite a challenging year and an uncertain economic climate for nonprofits, most volunteer coordinators are still working and contributing to the progress of their organization.  5.1% of all respondents reported they lost their jobs, were furloughed, or took a voluntary leave of absence. 4.0% noted that they were hired by a new employer. That said it's unclear to what extent unemployed leaders of volunteers are under-represented in the survey results. 
Fortunately, 94.5% of volunteer organizations report that they are still open.  However, they may have adjusted their schedules, staffing, or programing. 
Trend #3: Volunteer Managers Juggle Competing Priorities – The data also shows evidence of an erosion in time devoted to volunteer management as a part of the employee's workload. This year, only 47% of staff spent three quarters of their time or more on volunteer management, the lowest in six years, down 7% from a four year high of 56% in 2017. And only 24% focus entirely on volunteer coordination, down 6% from four years ago. 
Volunteer managers continue to "wear many hats," despite the complex array of duties and tasks needed to support a robust volunteer effort including marketing and outreach, training and development, human resources management, supervision and leadership, data analysis and impact measurement, technology implementation, and more. With such limited time to devote to these varied tasks, it's unclear if organizations are equipped with the staffing needed to engage a full complement of volunteers in support of their missions.  
Trend #4: Significant Impacts on Rates of Active Volunteer Participation – Our research shows that the COVID-19 pandemic has had a devasting impact on volunteer activity.  Average volunteer hours contributed per month are down by roughly two thirds, from an average of 30 hours per volunteer per month to now 10-20 hours per volunteer per month.  
In addition to the amount of time volunteers are contributing, the total number of volunteers per organization has decreased as well. In past surveys, the average number of active volunteers reported by organizations was 101-250.  Since COVID, it has dropped to 51-100 on average, with over one-third (36%) reporting 25 or less active volunteers currently engaged.   
Trend #5: Evidence of Gains in Digital Maturity in the Sector – On a positive note, digital maturity ratings and reported uptake of new technology tools are on the rise over last year. It's clear that volunteer managers, along with the rest of the workforce, are adapting to the "new normal" of online communications. The field has shown demonstrated progress in its use of digital tools to engage and support volunteers. This may be the "silver lining" of the COVID pandemic. 
In addition, our data shows both the adoption of new tech tools and increasing levels of digital maturity across all age groups of volunteer managers, not just the younger generations.  In fact, there were no clear correlations between age and technology use or maturity, leading us to question long-held beliefs (and even biases) about the digital aptitudes of different generations. 
These are a few of the volunteer management trends covered in our 2021 report. We invite you to download your copy and review the data in greater detail. 
And despite these trends, the question remains – What long-term impact will COVID have on volunteer participation around the world?  And are volunteer organizations equipped and ready to conduct the massive outreach efforts needed to recoup these losses?