5 Ideas for Virtual
Volunteer Appreciation Events
Who knew that last year when I wrote about how to move your volunteer appreciation event online, we'd still be discussing how to engage volunteers remotely a year later?!  
But, here we are, on the heels of another National Volunteer Week and even though with the arrival of vaccines there are hopes of in-person celebrations on the horizon, the likelihood that you'll be able to host large events in person is likely still months away. 
You might also be turning your wheels wondering how your online event can stand out from all the others.  
Read on for 5 ideas for fun and engaging virtual volunteer appreciation events volunteers will actually want to attend!  
Host a Virtual Celebration
COVID-19 has introduced a new way to host nonprofit celebrations: virtually!  
While many might worry that a virtual event might hurt personal connections with volunteers, there are some tips and tricks you can take to create a memorable experience.  
First, know that a successful virtual event is composed of two qualities: content and community. If you are planning a virtual volunteer appreciation event, it's imperative that you weave both content and community into every phase of the event: before, during, and after.  
Content 
If you thought planning a creative, fun, and engaging volunteer appreciation event was hard work before COVID-19 forced massive changes on the way we gather, I am willing to bet that the restrictions on in-person gatherings have you scrambling for ideas on how to keep your volunteers engaged in a virtual event setting.  
There are a few ways you can leverage content before, during, and after the event to encourage your volunteers to show up and engage in the event.  
Before – Send invitations to your guests of honor (your volunteers!) and promote it to others who might be interested in attending (donors and staff). The great thing about virtual events is that it's not likely you will be spending more as the guest list increases. So, take advantage of that and increase visibility of your volunteers!  
If you do invite non-volunteers, send some swag to your volunteers so they can be distinguished as a VIP during the event (if you are all camera). Make sure you request your volunteers RSVP by a certain date so they receive their goodies in time.  
Use push notifications to engage your guests before the event. You can send reminders, sneak peeks, and a 15-minute warning before kickoff, encouraging guests to grab a drink and/or snack and settle in.  
During – Just as you would an in-person volunteer appreciation event, you want to showcase how volunteers have had an impact on your organization's mission. So, ensure you weave this into the event by creating a plan for your CEO, board chair, and yourself to make remarks (preferably live, but pre-recorded is an option if need be).  
Keep in mind, the content of your event doesn't need to be all about business! Take some breaks between speeches, awards and activities with sponsored giveaways or a virtual photo booth.  
Recall the push notifications you used to engage your audience before the event? You can use this tactic during the event too! Send your attendees client/staff messages of appreciation for volunteers.  
Run contests during the event and play on the competitive nature of your attendees. Create a missionized bingo card and share it with your attendees. Whoever gets bingo first wins a prize! This example is for a peer-to-peer fundraiser bingo card, but you'll get some ideas on what to include on your virtual volunteer appreciation event bingo card!  
After – Don't stop offering engaging content as soon as the event is over. Take advantage of the momentum and connections and encourage your volunteers to stick around (on a different platform, of course, which is where the community aspect below comes into play).  
Here are some ideas that will keep people coming back for more even after the event winds down:  
Announce any giveaway 

winners

 

Post replays of pivotal moments (CEO Speech, volunteer awards, clips of the fun stuff)

 

Ask trivia questions for more giveaways (example: who did the CEO quote in their speech?) 

 

Ask for feedback on the event (link to a survey or form)

 
Community 
Virtual events, if not done the right way, can fall by the wayside and feel impersonal. One way you can combat this with your virtual volunteer appreciation event is to build a sense of community in relationship to the event.  
At VolunteerPro, we have already written about the value of building a Facebook group for your volunteers, but it's important to note there are key differences between a group for ongoing engagement, versus a group for short-term engagement.  
Read on for ways you can amplify your virtual volunteer event with a pop-up community.  
Before – Choose a platform and set up a pop-up community dedicated solely to the event. While we recommend Facebook groups, here are a few other options you can look into:  
During – Much like you would have volunteers or staff directing guests at an in-person event, you should staff your online community during the event to catch any stragglers or lurkers or answer any questions about how to access the event. However, once the event is well underway, you don't want to be in there posting much as receiving notifications from the community will take attention away from the live experience.  
After – Just because the party is over, doesn't mean the fun has to stop! Consider hosting an after party in the community. It can be completely chat based, you can look at ways you can stream live video into the community, or you can set up a separate Zoom event for the after party. 
Once you brainstorm what kind of content you want to share after your event, share it in the event community.  
About a week or so after the event ends, archive the community. If your pop-up community is hosted on Facebook, the content will still be there, but no new activity can take place. If you're using something else, check with your platform host to see what happens to the community once it is archived.  
5 Ideas for Fun and Engaging Virtual Volunteer Appreciation Events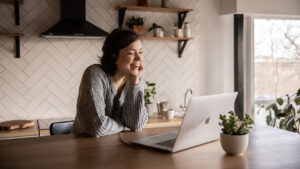 Now that you know how to plan for the basic elements of every successful virtual volunteer appreciation event, content and community, it's time for the fun to begin: planning your event activities!  
Check out our list of suggested events.  
Idea #1 Live Comedy Show
There's a lot going on in many people's lives and anywhere we can find laughs is a very welcome distraction from the realities of the world today.  
Reach out to some local talent (try searching Thumbtack or GigSalad, or reach out to local comedy clubs or improv instructors) and hire them to perform a virtual comedy show for your volunteer appreciation event.  
You can have a straight set or keep the event interesting and intersperse 15-minute sets (with the same and/or different comedians) in between the speeches and awards.  
Read more on how you can coordinate a comedy show via Zoom in this article. 
Idea #2 Magic Show
Much like comedians, magicians rely on their interactions with audience members to put on a good show, so it's not an activity that comes immediately to mind when thinking of virtual activities. It's also something that may leave many people thinking of elementary school level productions.  
However, with the right magician who is comfortable performing virtually and can tailor shows towards a more mature audience, you can leave your event guests wondering "how did they do that?".  
Think you might want to amaze your volunteers with feats of wonder? Check out highly-acclaimed magician Gary Ferrar for more details on his virtual offerings.  
Idea #3 Virtual Concert
Much like everyone else post-COVID, local musicians have likely already made a pivot to online offerings.  
Check out some of the concert halls or symphonies in your city. Some of them are opening their archives for anyone to view during this time. Start the event off with a quick speech about the impact of volunteers and how much you appreciate their time and talent, then share your screen to broadcast the show.  
Idea #4 Virtual
Guest Speaker
 Event 
You might be wondering how this is different from your CEO remarks, but a virtual speaking event should be designed with some thought into a topic area your volunteers might be interested in learning more about.  
Do you work for a public library? Bring in an author for a talk and Q&A session.  
An art museum? Showcase local artists with personal talks about what inspires them to create art.  
A hospice? Bring in experts to provide information on how caregivers can cope with stress.  
Also, ask your speaker if they can recommend discussion topics for breakout rooms and/or poll questions to keep engagement up during the event.  
Idea #5 Virtual Cooking Class
Hire a local chef or cooking instructor to give a cooking lesson during your virtual volunteer appreciation event. 
Wondering how to time it? Consider opening with remarks for your volunteers, then bring on the chef for the lesson. When the food is safely in the oven or ready to be consumed for a stovetop meal, you can start the volunteer recognition piece of the event.  
Make sure you send the recipe to guests ahead of time, schedule a delivery or pick up of the food items they will need (if it's in your budget!), and work with your instructor to consider replacements for dietary restrictions, if necessary.  
Don't Limit Your Virtual Volunteer Appreciation Event 
Activities
! 
Don't let distance limit what you offer your volunteers this year! Think outside of the box when planning your 2021 virtual volunteer appreciation event.  
Your event doesn't even need to occur online. One of our VolunteerPro Premium Community members hosted a "drive-by" volunteer appreciation event for a few hours. They invited volunteers to come by for a certain time period and staff stood outside with signs of gratitude. They handed out bags of cookies through car windows and had a band playing the whole time.  How fun is that?! 
What about you? We want to hear from you! Are you hosting a virtual volunteer appreciation event this year? What have you tried that's been successful in the past? What creative ideas do you have for the future?  Let us know in the comments.  
Augment Virtual 
Appreciation with High-Touch
Old-Fashioned Thank You Notes

Get Your [Free] Cheat Sheet Here
If you want to make your volunteer appreciation truly special, try supplementing your events with so good, old-fashioned analog gratitude. Thank you notes are a lost art, but so important when you want to add a personal touch.   
Don't have enough time to write a note to every volunteer? Work with volunteer team leads and co-worker to divvy up the tasks. Or, select a smaller group to focus on and rotate your list throughout the year. 
Wondering just how to write the perfectly crafted expression of gratitude.  Also, check out our [Blog] This is How to Write the Perfect Volunteer Thank You Letter. You'll get step-by-step instructions on what goes into a note that shines.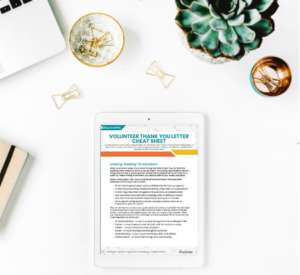 Also, download our Free [Cheat Sheet] Volunteer Thank You Letter Sample and keep volunteers coming back with real, authentic gratitude.