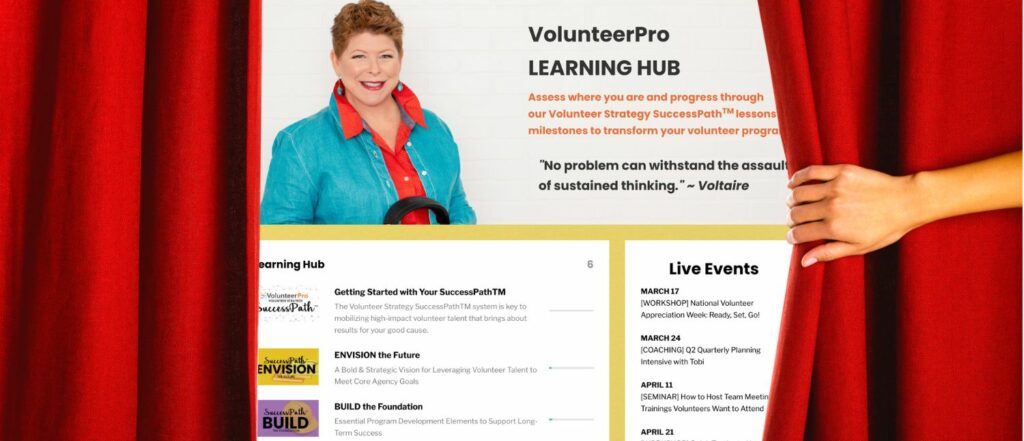 Episode #049: Behind the Scenes at Our VolunteerPro Membership Makeover!
In this week's episode, Tobi offers a peek behind the curtain at the process of developing new VolunteerPro curriculum – in this case, for our newly updated VolunteerPro Membership learning hub!
She's also sharing some of her key takeaways when it comes to developing online learning that will be enormously helpful to anyone tasked with developing new training for volunteers or coworkers.

Why Update the

V

olunteerPro

Membership

C

urriculum?
Although the VolunteerPro training is already rock-solid and battle-tested, Tobi decided to update the membership curriculum for a couple of key reasons.
The first reason: VolunteerPro membership utilizes two great platforms to share content and training. Kajabi is the learning hub, and is the platform members use to access all of VolunteerPro's online courses. Circle is the platform used for community, events, resources, and peer-to-peer collaboration.
Because of the volume of valuable resources and products included in membership, Tobi would sometimes hear from members that felt a little lost and weren't sure where to start.
The second reason: VolunteerPro includes members at all levels of volunteer engagement, from brand new volunteer coordinators to seasoned executive directors and board members. Each person starts their VolunteerPro journey at a different stage along the path, and sometimes weren't sure which parts of the curriculum applied to them.
The "New" VolunteerPro Membership Community!
The VolunteerPro team took this member feedback and went to work behind the scenes, refining and optimizing every resource to make it even easier for leaders of volunteers to start building their programs exactly where they are, and all focused on VolunteerPro's proprietary system, the Volunteer Strategy Success Path™".
This strategic path is designed around five key pillars – Envision, Build, Grow, Scale, and Sustain – which are fundamental to the success of every volunteer-involving organization. The new VolunteerPro Membership curriculum is built as a roadmap of sorts, and serves as an easy-to-follow customized guide for members to find resources and apply VolunteerPro's tried-and-tested frameworks in the way that is most effective for their organization.
VolunteerPro Membership Makeover – Show Highlights
00:01:47 Tobi kicks off the episode by discussing the two primary goals in updating the VolunteerPro membership.
00:02:58 Tobi recalls the "good old days." when she still used transparencies during her trainings. A lot has changed since then!
00:06:17 Tobi shares some of the key takeaways when it comes to developing online learning.
00:08:38 Tobi shares more about why she created Volunteer Strategy Success Path Guide, and what it is.
00:14:29 Tobi offers the key things volunteers need to know – from what knowledge, skills and abilities they need early on, all the way through the volunteer life cycle.
VolunteerPro Membership Makeover – Quotes from the Episode
"Learning inside a course platform…you've got to dive in, you've got to get uncomfortable. Sometimes you're leaning on your 'old school' for a little while, but I can tell you it's another learning flex point with technology."
"Technology is constantly evolving, and we have to keep evolving, too."
"There's a lot of information out there in the world. People are hunting and pecking for ideas, but they come to our community to get focus and clarity. It's a huge value we can offer. And so part of it was, you know what? We need to lean into that promise of providing clarity. And that's what we've done."
"This community is the most comprehensive resource for attracting, engaging, and supporting dedicated high impact volunteer talent for your good cause. VolunteerPro Premium Membership helps you build or renovate an effective what's-working-now volunteer program with less stress and more joy, so that you can ditch the overwhelm and confidently carry your vision forward."
Want More? Check out Our Time + Talent Podcast!

Whether you're looking for solutions, inspiration, or just want to hear what others are doing to successfully engage volunteers, Time + Talent is the podcast for leaders of volunteers.
Co-hosts Tobi Johnson, MA, CVA and Jennifer Bennett, CVA bring you uplifting and insightful conversations with thought leaders and volunteer management practitioners who are redefining their roles, and the roles of volunteers.
About the Show
Nonprofit leadership author, trainer, consultant, and volunteer management expert Tobi Johnson shares weekly tips to help charities build, grow, and scale exceptional volunteer teams. Discover how your nonprofit can effectively coordinate volunteers who are reliable, equipped, and ready to help you bring about BIG change for the better.
If you're ready to ditch the stress and harness the power of people to fuel your good work, you're in exactly the right place!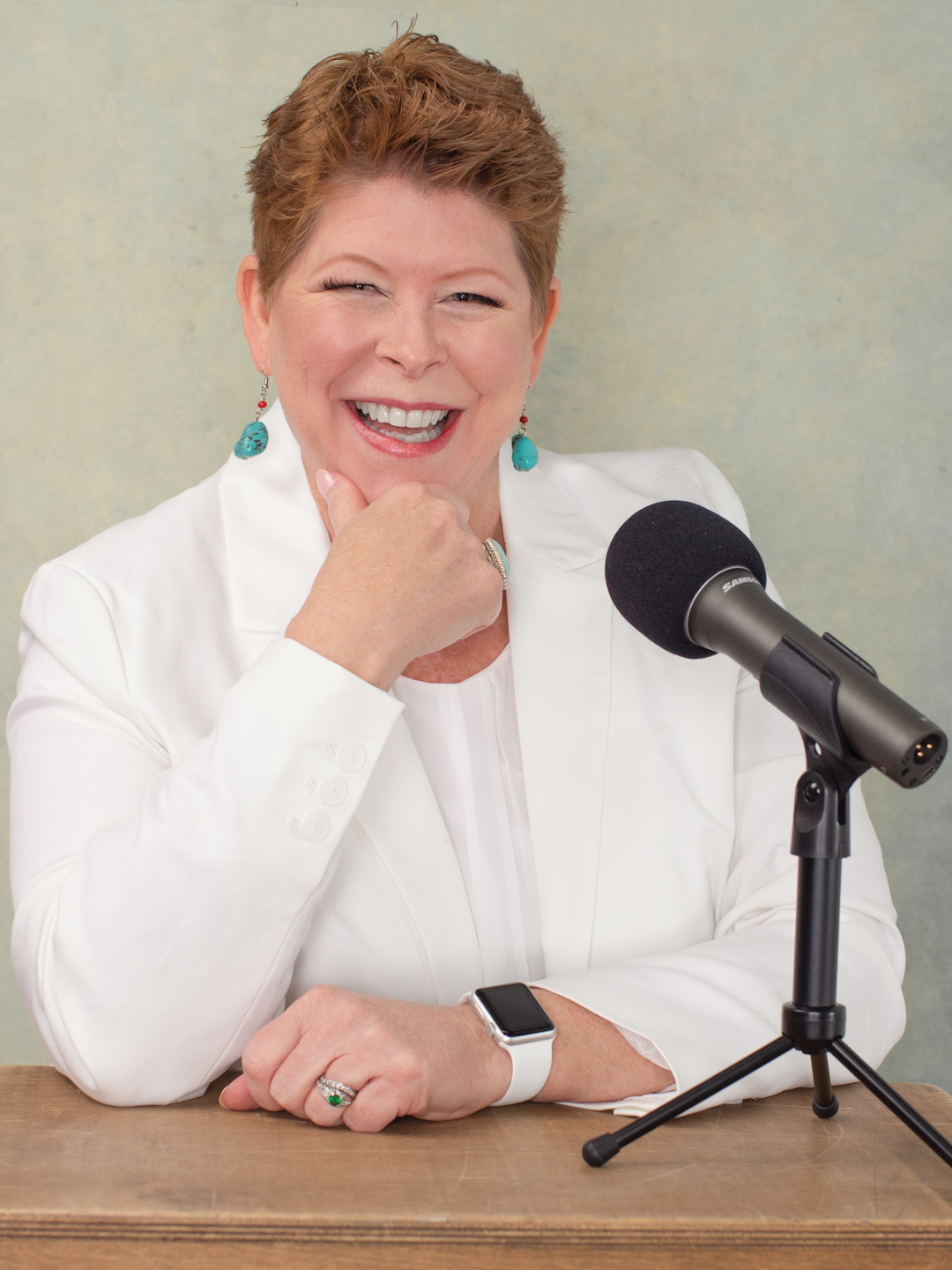 Contact Us
Have questions or suggestions for the show? Email us at wecare@volpro.net.
Rate, Review, & Follow Us on Apple Podcasts
If you love the content Tobi shares on the Volunteer Nation podcast, consider rating and reviewing the show! This helps us reach more people – and help more good causes just like yours – successfully engage enthusiastic, dedicated volunteers with less stress and more joy.
Click here, scroll to the bottom, tap to rate with five stars. Then, select "Write a Review" and let us know what you loved most about this episode!
Also, if you haven't done so already, follow the podcast so you don't miss a thing. Follow now!
Subscribe to ProNews: Our Weekly Resource Roundup
If you'd like to stay up to date on all new podcasts, blogs, freebies, and deals posted on our Tobi Johnson & Associates and VolunteerPro websites, subscribe to our weekly ProNews newsletter.
Every Wednesday, we'll send you a digest of our freshest content, plus a bonus! Once you confirm your subscription, you'll get our [Free eBook] The New Volunteer Manager: The First 90 Days.