Volunteering During COVID-19: 14 Ways Volunteers Can Help 

with
Relief

 and Recovery 

 
The global pandemic has been persistently pulling at the social structures and everyday lives of citizens around the world. Volunteering during COVID-19 is just one of those social structures that has witnessed a downturn.  
However, with the rollout of vaccines, there is hope for the return of full-scale volunteerism! If your organization is ready to start bringing volunteers back, but is still hesitant on how volunteers can help during a pandemic, take some inspiration from other leaders of volunteers.  
In this post, I will share 14 ways volunteers can help with COVID-19 relief and recovery, all inspired by current posts from organizations that have been successfully promoting volunteering during COVID-19.  
We hope you take some inspiration from these postings and think of creative ways you can tailor them to involve volunteers as your organization works to rebuild your community.  
Big Ideas for Volunteering During COVID-19
Consider how you can involve your organizations and your volunteers in one or more of these great ideas to help us bounce back strong. 
1. Join the Efforts to get America Vaccinated
The COVID-19 vaccine has arrived, and in order to get the country vaccinated quickly and safely we need the support of volunteers!  
You can get your organization's volunteers involved in reaching out to the community you serve by joining the COVID-19 Community Corps. As a member, you'll receive timely, accurate information to share with your family, friends, and neighbors. By encouraging them to get vaccinated, you'll help protect them – and allow all of us to safely gather together again. 
Check out some vaccination clinic volunteer testimonials in this Facebook video.  
Idea for Action:
Here's a suggestion from a fellow leader of volunteers, Corina Sanchez "Our City has Rotary volunteers going door to door (including apartment complexes) with COVID Vaccine door hangers, it has information in different languages explaining how they can get vaccinated. After their first-round there was a 7% increase in vaccinations in the Hispanic population in our City."  
2. Pen Pals (can be remote!)
Do you remember what it was like to receive handwritten letters in the mail? I know I do! I cherish those letters and still have them stashed in a storage bin to this day.  
COVID-19 has left a lot of people dealing with feelings of loneliness and isolation. If you are noticing this trend in your clients, consider starting a pen pal program.  
Pen pal programs are proven to have benefits for both the writer and the recipient. 
Idea for Action:
Want to learn how to start a pen pal program at your organization and safely engage people in volunteering during COVID-19? Check out how The Phinney Neighborhood Association structured theirs here.  
3. Animal Adoption Counselors
As the coronavirus pandemic continues to impact our communities, people may find it more difficult to care for their pets. Some may have been hospitalized, some may be struggling financially, and some may be unable to cope with troublesome animal behaviors brought on by separation anxiety as pet owners return to work and school in person.  
If you manage volunteers for a pet shelter, you might find an increased need in adoption counselors to help meet the interest level of people looking to adopt. Adoption Counselors are imperative to ensure animals are being placed in safe, loving, and forever home.  
Idea for Action:
Check out Peninsula Humane Society's post for Adoption Counselors for the range of responsibilities their Adoption Counselors are responsible for. Consider how you can use volunteer support in this way, both in person and virtually for those who don't want to or can't do in-person volunteering during COVID-19. 
4. Food and Supply Donations
Millions of people (in the US we are looking at 42 million) are facing hunger and food insecurity as a result of the coronavirus pandemic.  
You don't have to work at a food bank or hunger relief organization to help solve the problem! Every community in the United States has people struggling to put nutritious food on the table, and as a leader of volunteers, you can recruit volunteers to help people in your community.  
Idea for Action:
If you're new to organizing food drives, check out this Create the Good AARP article for some tips and get started today! Also consider other items that might be useful for your clients (baby supplies, books, school supplies, etc.)  
5. Social Media Volunteers (can be remote!)
As life and community connections continue to play out online, having an engaging social media strategy is going to be critical for your organization. Especially as you start to re-engage volunteers in your work.  
While your organization may already have a marketing team in place, it can help to have a volunteer work alongside them.  
Idea for Action:
Check out how Street Angel Project Inc. is promoting their need for a social media volunteer.  
6. Sewing/Knitting Projects (can be remote!)
What's more comforting and warming than cozying up with a handmade quilt or blanket?! I can't think of anything!  
In a time when people are separated from family, friends, and their community, this extra sense of comfort can provide a little bit of extra joy.  
Whether you work for a hospital, social services agency, school program, or even a library, you can recruit volunteers to sew, knit, or crochet blankets and pass them along to your clients in need. 
Idea for Action:
Check out this "Purls of Wisdom" opportunity post (love the pun!) by Alliance Hospice for inspiration.   
7. Youth Instructor (can be virtual!)
Does your organization work with youth? If so, you are primed to offer opportunities for volunteers to act as an instructor!  
This kind of work can take place in person for those who are comfortable, or virtually for those who prefer volunteering from home during the COVID-19 pandemic.  
The sky is the limit in regard to instruction areas: 
Work with preschoolers?

 Recruit volunteers to lead a crafting activity or host an educational session about animals, colors, weather, etc.

 

Work with elementary school children?

 Recruit volunteers to host a read aloud, teach about growth mindset, 

 

Work with teens? 

Recruit volunteers to host instructional sessions on life skills such as cooking, job prep, home maintenance, study/test-taking skills, etc.

 
Grab some more ideas from Unique Union's post here.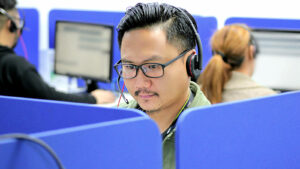 8. Crisis Telephone/Chat/Email Operator (can be virtual!)
In June 2020, 40% of adults in the United States stated that they experienced an adverse mental or behavioral health condition, suggesting that the COVID-19 pandemic has had health implications on every community.  
You don't have to work for a social services agency or public health entity to offer support to your community! If you have noticed an increase in mental health challenges among the population you serve, consider starting a hotline of some kind for your clients.  
Recruit volunteers to run phone lines, online chat features, and/or an email inbox so that your clients can reach out when they are in need of support or resources to better manage their mental health.  
While most current crisis operators run 24/7, unless your organization's purpose is to provide this service to your community you can start small.
Idea for Action:
 Check out this article for more information on how you can make this type of volunteering during COVID-19 work at your organization.  
9. Parks Cleanup
Local, state, and national parks are seeing more visitors than usual due to the COVID-19 pandemic. In the United States, we saw an increase of 35%! And, staffing concerns, they are having a much more difficult time maintaining park facilities.  
You might be wondering what you can do to help when you don't work for a parks system. Your organization's stakeholders are likely visiting the parks in your area, so consider partnering with a local park or environmental agency to recruit those stakeholders to participate in a park cleanup.  
Idea for Action:
Tom's of Maine offers some easy tips on how you can clean up a park near you.  
10. Fundraising Volunteers (can be virtual!)
The coronavirus pandemic has created financial woes not just for individuals but also for organizations. And, with a potential gap in funding, your organization's long-term sustainability is up in the air, and you are facing dire budget restraints that could lead to program cuts, staff lay-offs, and fewer clients served.  
We've recently recommended two ways for volunteers to get involved:  
Volun

teer-Led Peer-to-Peer Fundraisers

 – Online fundraisers to honor birthdays, special occasions, or challenges are a great way for volunteers to galvanize their own personal networks in support of your cause.

 
Volunteer-Driven Social Media Campaigns

 – Equipped with your campaign messaging and assets, volunteers can amplify your call to action throughout their own online networks of friends and family.

 
Idea for Action:
Learn more here about how you can utilize fundraising volunteers during COVID-19.  
11. Volunteer Driver
For some people, getting out and about during the COVID-19 pandemic has become challenging. People with no access to transportation may still be struggling to get groceries, get to medical appointment, get to work or school, etc.  
If you have clients who are struggling with transportation, you might consider creating a volunteer driver position. These volunteers can drive clients to doctors' appointments, to the grocery store, to school, to the pharmacy, etc.  
Idea for Action:
Check out how The Davies Project recruits for volunteer drivers in their online posting.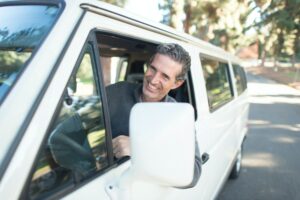 12. Cook Meals or Bake Goods
When people struggle financially, emotionally, and physically it can lead to overwhelm in everyday life. This has certainly been the case over the course of the pandemic!  
One way we can work to beat overwhelm is by providing a simple act of kindness: making and delivering food! Whether it's a meal fit to feed an entire family or a batch of warm cookies, sharing food can do so much to alleviate stress and uncertainty.  
Idea for Action:
Take some inspiration from Lasagna Love and consider recruiting volunteers to help spread kindness and strengthen communities.  
13. Virtual Baby Shower/Graduation/Birthday Parties
Celebrating birthdays, graduations, and new babies should be some of the happiest moments of one's life; however, with the financial stress some people are facing due to the pandemic, it's more difficult to feel joy in these situations.  
And, if one is separated from their family and can't safely gather feelings of loneliess can increase.  
If your clients are missing out on some of these milestones, work with your organization's volunteers and start hosting virtual celebrations.
Idea for Action:
 Learn how one organization, Soldiers Angels, does it here.  
14. Host a Book Club (can be virtual!)
As people continue to stay home until it's safe to participate in life as usual, they are taking in new forms of entertainment.  
That includes reading and/or listening to books!  
If you know this is something your organization's clients will benefit from, consider recruiting a group of volunteers to host a client book club.
Idea for Action:
Here are some suggestions on how to start a book club. 
Tip: make it as easy as possible for your clients to participate and try to find a way to cover the cost of the books, whether you partner with a corporation to donate the books or find it in your organization's budget to pay for the books.  
The good news is that for most of these engagements, there is little or no risk to the volunteer or the client when it comes to disease transmission.  What's more, many are appropriate for any age group, making these roles a powerful intergenerational volunteer opportunity. 
Finally, finding and recruiting volunteers isn't any different than engaging them for other roles.  The fundamentals of volunteer recruitment still hold true; however, online recruitment techniques will work more effectively. 
So, what are you waiting for?  Let's get volunteers back to the meaningful work of serving our communities! 
How are You Encouraging Volunteering
During COVID-19? 
Have you engaged volunteers during the pandemic in supportive roles? What have you done? How did it go?   
Did we leave anything out that you have tried so far?     
And, what's working and what have you learned?