Re-opening Your Volunteer Opportunities: A List of Questions to Ask
In today's uncertain times, a strong supporter eco-system — made up of both volunteers and donors — and a healthy slate of volunteer opportunities will be essential to the future sustainability of nonprofits.  
Now, more than ever, supporters will be crossing the thresholds between giving and volunteering to champion the causes they care most about. So, as things evolve in communities and with our current global pandemic, you can expect volunteers to become donors and donors to become volunteers, if they haven't already participated in both roles yet. 
If you've pushed the pause button on volunteer engagement, now is a good time to start planning how and when you welcome back those who want to play a meaningful role in collective recovery efforts to build an organization that thrives.    
It may be next month, next quarter, or next year – but in order to keep volunteers coming back it's important to keep in touch. And if you have a solid plan, you can let your volunteers know what they can expect and how you will be deciding when you will re-open on-site volunteer shifts. 
Also, it's more important than ever for the health, safety, and well-being of volunteers and those they serve to be taken seriously and with care and forethought. 
I've written and trained extensively on volunteers and risk management.  I also wrote a recent blog post about how to assess risk when it comes to volunteer involvement during COVID-19. It is a great companion to this post. 
In this blog post I dig deeper into some of the key questions you will want to think through to develop a solid volunteer re-entry plan.  While certainly not exhaustive, and things may change over time, it can help you get started pulling the pieces together for welcoming volunteers back to work,   
Get 
Grounded
 with Core Values and Guiding Principles
Core values and guiding principles can be a helpful litmus test during times of crisis and acting with integrity is an essential element of a trusting relationship. 
Clearly with the advent of the COVID-19 pandemic and case counts surging in some areas, safety is a chief concern – both physical and emotional wellbeing.   
At the same time, we don't need to give up our standards, but we also may need to build in more flexibility.  Clear, transparent communications are your biggest asset. 
The Council for Certification in Volunteer Administration (CCVA) is a wonderful resource that applies to volunteer management worldwide. Their Professional Ethics in Volunteer Management document is an excellence resource for best practices in our field.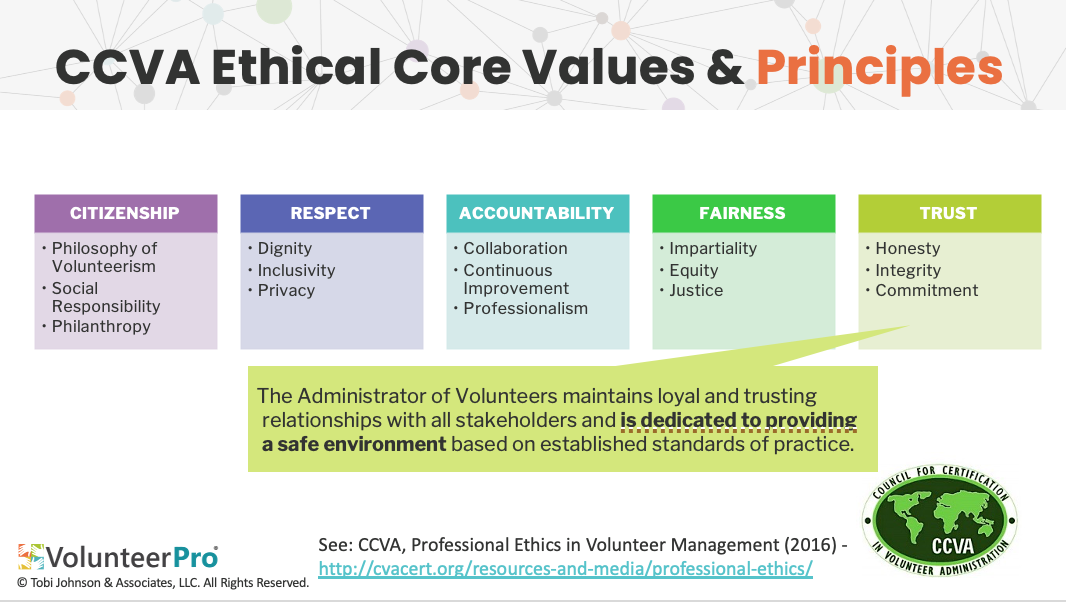 In the domain of TRUST, the CCVA recommends that volunteer organizations consider the following: 
Honesty: 

Commit to the truth and strive for transparency.

 
Integrity: 

Demonstrate consistency between words and actions by practicing ethical decision-making and addressing conflicts of interest.

 
Commitment:

 Act in a forthright manner with sincere good intent and follow through on promises and agreements.

 
Also, consider your own agency's values and principles through the lens of the current environment.  Below are a few things to ask and discuss with others to guide your planning. 
 KEY QUESTIONS
What are your agency's stated values & guiding principles?

 
Which are most important to stand by & reinforce right now?

 
How can you model them during this crisis?

 
How can you use them for prioritization and decision-making?

 
Which are most vulnerable 

at this time

?

 
Which might already have been compromised?

 
What impact might this have on your agency reputation?

 
Trust in institutions is wavering mightily in the current moment – make sure your nonprofit does not get caught up in the fray. It is important that you stand for something and stand on your principles, as well as back up your core values with purposeful action. 
Three Big Planning Questions for Volunteer Opportunities
In addition, you will want to plan how you will phase in volunteer workers.  Below are three big planning questions, as well as sub questions that can help.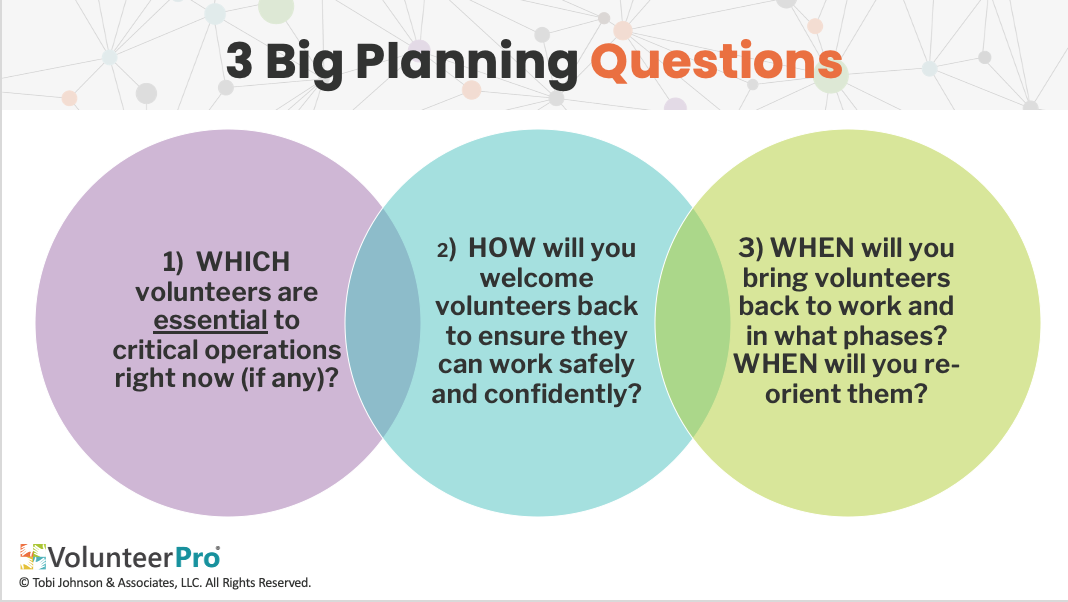 Below are some of the key questions you need to answer when building your interim plan for welcoming volunteers back. 
Step One: Assess Essential Roles
KEY QUESTIONS
WHICH volunteer roles are essential to your operations right now? 

 

WHICH volunteers belong to at-risk or to vulnerable groups?

 

WHICH volunteers have strong leadership skills that could be tapped right now?

 
MORE QUESTIONS
What is essential now and what can be delayed for later?

 
What conversations & negotiations can be had with funders & partners?

 
Does the importance of the task outweigh the risk to human health & lives?

 
What are the alternatives to getting the work done (e.g., remote work)?

 
Can part-time employees be hired to fill in for volunteers for the short-term?

 
How can donors and volunteers help fundraise to meet the gap?

 
What protections are in place for volunteers who might become sick, need medical help, and lose wages (e.g., an existing medical home, medical insurance, worker's compensation, unemployment insurance, etc.)?

 
Step Two: Set Safety Protocols
KEY QUESTIONS
HOW will you welcome volunteers back to ensure they can work safely and confidently? 

 

HOW will you brief them and ensure that teams comply with your safety protocols?

 

HOW can you maintain a sense of community?

 
MORE QUESTIONS
Will volunteers be expected to follow the same protocols as employees, or something more stringent? 

 
Will volunteers be asked to attest to their health status or be tested?

 
How will guidelines & protocols be shared with volunteers & when?

 
Is there a plan to protect high-risk or vulnerable people?

 
Will signage be placed in visible locations to reinforce guidelines?

 
What should volunteers do if they feel they have been put at risk?

 
How will you communicate that service is optional in a compassionate and accepting way?

 
How will you communicate your agency's commitment to diversity, equity, & inclusion?

 
What is the plan if volunteers don't follow established safety protocols?

 
Will the agency provide personal protective equipment (PPE) or will volunteers be expected to bring their own?

 
Are cleaning supplies readily available & disinfectant methods clear?

 
How can physical distancing be enforced & supported?

 
Phasing in when teams return to work.
Staggered shifts & lunch/rest breaks.

 
Rotating weeks in the office & working remotely.
Moving workstations to increase separation distance.

 
Implementing one-way traffic patterns through the workspace.
Step Three: Decide on Trigger Points
KEY QUESTIONS
WHEN will you bring volunteers back to work and in what phases (which local, state, and federal and industry guidelines will serve as your triggers and at what point)? 

 

WHEN will you have a full plan in place to ensure volunteer safety? 

 

WHEN will you begin to engage and train volunteers to resume operations?

 
MORE QUESTIONS
Develop scenarios for re-opening & possible consequences.
Set an event calendar that can be shifted as dates become more firm.
Decide which benchmarks you will track, for example …

 
Sustained reduction or stability in new cases for 14 days.
Community-wide diagnostic testing with decreased test result turnaround time.

 
Sustained or increased public health capability for contact tracing.

 
Health care system capabilities remain adequate for forecasted surge capacity.

 
Sustained or decreased COVID-19 related death rate.

 
Decide which triggers you will use for re-opening to volunteers.

 
Monitor the data with your COVID-19 response team.

 
Keep everyone in the loop on progress & new developments.

 
More Planning Considerations
There are also a myriad of other questions you might ask, particularly about how you will resource your efforts.  Consider the following: 
OTHER QUESTIONS
WHAT specific tools will you need to be successful? 

 

WHAT assets do you already have at your disposal? 

 

WHO can help you implement successfully?

 

WHAT budget items do you need to plan for?

 
This moment is a time of challenge as much as opportunity. Community members want to help, if they can do so safely, either online or in person. You will need to decide. 
Whatever you decide, make it mission critical that you put strong systems in place that inspire the trust and support of your network.