Working Remotely: Boost the Impact of Your Nonprofit Communications with Stakeholders
As a small business owner with clients and students who live hundreds (if not thousands) of miles away, I spend a LOT of time on nonprofit communications via webinars and conference calls.
These tools help me feel connected, get me information quickly and easily, and are an affordable way for my customers to receive training without the expense of travel and accommodations.  It really is a win-win for everyone.
Due to the recent COVID-19 pandemic and global shelter-in-place mandates, there's been plenty of buzz around engaging supporters digitally and creating online training for volunteers.
Forward-thinking organizations and staff, who have long relied on face-to-face communications and broadcast emails are re-considering how they might use nonprofit communications tools to stay in touch.
So is it all good?  Can this interactive technology really deliver what it promises, especially in this time of uncertainty?
A Brief History of Nonprofit Communications Technology & Competency
About a decade ago, I launched my consulting practice and began to use webinars to offer instruction online for my clients. Back then, it felt like the Wild West. You had to cobble together several solutions to reach a goal, you had to learn convoluted systems, and you were never sure if the integrations and communications would actually work.  In addition, students often struggled to figure out how to log on.
In 2009, the Goodman Center released an interesting report called Dialing In, Logging On, Nodding Off: The True Costs of Teleconferences, Videoconferences and Webinars.
It provided insights into what nonprofit staff thought about tele-meeting technology at the time. They surveyed over 1,200 professionals involved in the social sector, spanning a wide array of interest areas.
It's fascinating to rewind the hands of time and see what the sector thought about communicating digitally when remote work was a rare occurrence in the sector.
A Few Key Findings
Across the board, tele-meetings received an average grade of B-; not bad, but there was room for improvement.
Webinars received slightly higher grades that teleconferences and videoconferences.
The majority participate in teleconferences (60%), while fewer participated in webinars (25%) or videoconferences (58%).
About half expect their technology usage would increase.
Most surveyed felt meetings of 45-60 minutes were the right length.
Over 70% have never had training on how to use these technologies to conduct a successful meeting.
They also found several challenges that nonprofits were facing around webinars and conference calls. Clearly, the entire sector had work to do.  Interestingly, even today many struggle with the following barriers to successful communication.
Common Problems with Nonprofit Teleconferences (ranked by the significance of negative impact)
Poor Leadership/Facilitation
Lack of Agenda or Clear Objective
Couldn't Hear Other People Speaking
Didn't Receive Support Materials for Meeting or Class
People on Call Didn't Participate
Too Many People on the Call
Common Problems with Nonprofit Webinars
Poor Leadership/Facilitation
Lack of Agenda or Clear Objective
Boring Visuals
Difficulty Hearing Other People in Webinar
Didn't Receive Support Materials for Meeting or Class
People on Call Didn't Participate
Much has changed (and much has stayed the same) ten years later.
If you joined an online meeting as a participant recently, you've probably experienced some of these challenges even today. I know I have.
While agendas and objectives have become clear, it's still the fact that many are not participatory and because they are not interesting, many viewers are multi-tasking while they listen in.
Current Nonprofit Digital Maturity
And, it appears that our overall digital maturity hasn't evolved significantly over the past decade, at least in volunteer organizations.
In our most recent VolunteerPro 2020 Volunteer Management Progress Report survey, we explored how nonprofit organizations were using technology to attract and sustain volunteer engagement.
We asked, "For which of these activities does YOUR AGENCY use digital tools for volunteer management ON A REGULAR BASIS?"
For the most part, volunteer organizations use technology for traditional uses – to post volunteer opportunities online (73.4%), to process online applications (63.4%), to communicate via broadcast emails (54.1%), and to track volunteer time (50.5%).
Very few (15.7%) used technology for online meetings or conference calls and only about one third (31.7%) used technology to conduct volunteer training.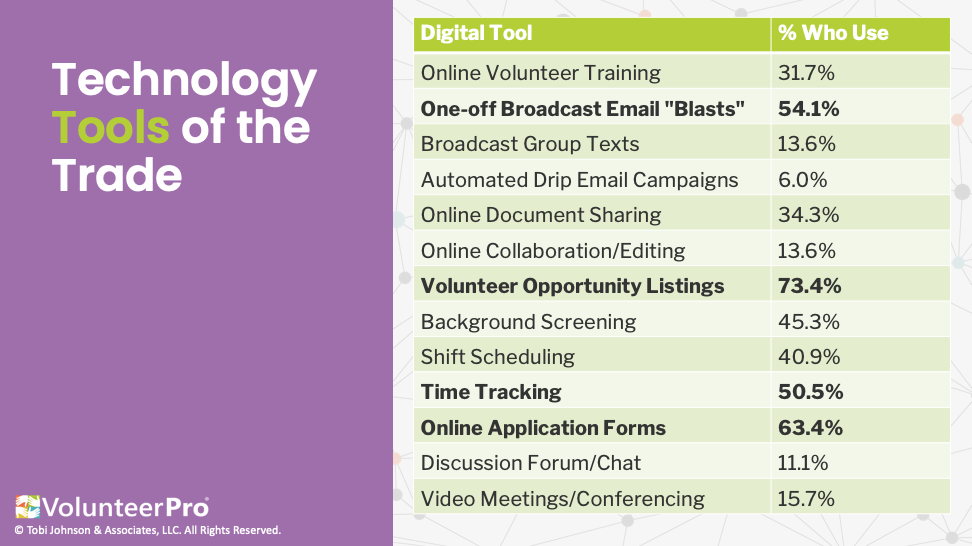 [Note: One result regarding technology appeared to be contradictory. While 31.7% reported that they used technology to deliver online volunteer training in this question when we asked: "What percentage of volunteer training hours are conducted ONLINE?" 51.7% reported that none of their training was conducted online. So, we're not sure what to make of these data.]
We also asked volunteer managers to rate their agency's digital maturity as it relates to volunteer management. We wanted to better understand where they felt strong and where are they felt challenged.
We specifically asked, "Rate YOUR AGENCY'S current level of digital maturity in the following areas, as it relates to volunteers" and instructed them to choose N/A if they did not feel qualified to rate a particular aspect of their agency's technology use.
Overall, only one in ten (13%) rated their agency as MATURE.  Half (51%) reported that their overall digital strategy was in the ADAPTING stage with moderate technology use to meet goals. About one-third (30%) reported they were LAGGING.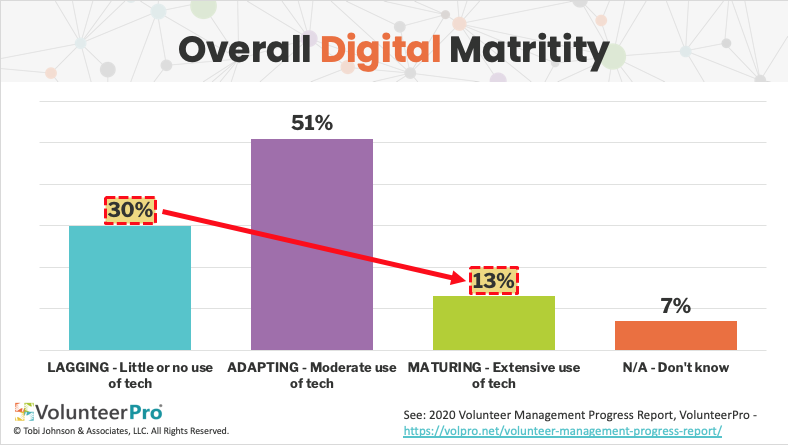 The areas where volunteer managers felt strongest were — communications (weighted average 2.22), data collection & reporting (weighted average 2.10), recruitment (weighted average 2.09), and scheduling (weighted average 1.98), with Lagging = 1, Adapting = 2, and Maturing = 3.  These also align with those most frequently used by agencies as reported elsewhere in the survey.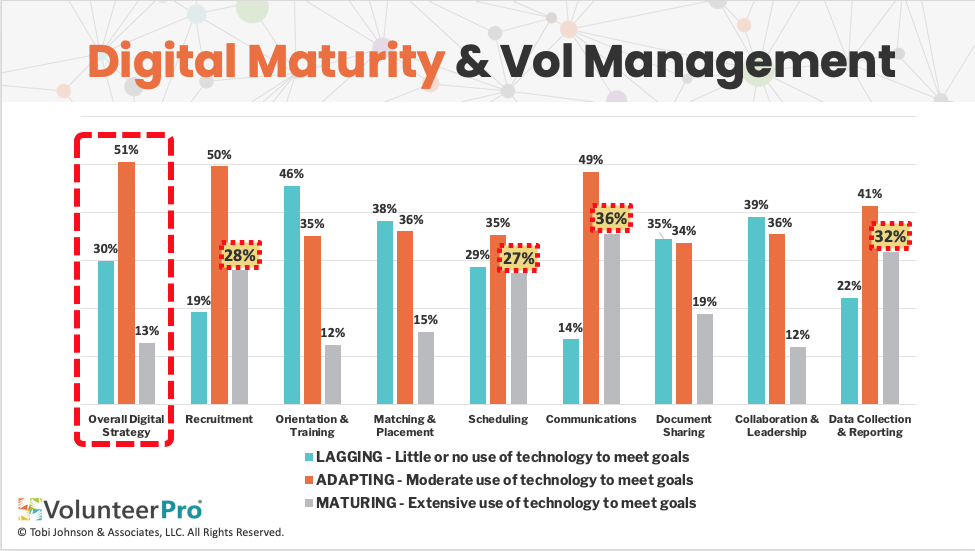 Across the board, in nearly every functional area, respondents reported that the use of technology was limited when it came to furthering agency goals.  And, they struggled most in the areas of orientation and training, matching and placement, collaboration and leadership, and document sharing.
So, when it came to making the switch from communicating with volunteer workforces in-person to transitioning to online interaction, it's no wonder that many organizations were woefully unprepared for the moment when remote work would outpace working from the office.
With the safety of the population compromised because of COVID-19, now more than ever organizations need to quickly address their most pressing technology challenges and upskill both their employee and volunteer competencies.
At the most fundamental level, nonprofit webinars and tele-conferences are a great place to start.
Free & Low-Cost Nonprofit Technology Tools
When we are limited to the kinds of ways we can communicate, it makes sense to rethink how we are using the available tools and take steps to improve our online meeting facilitation methods.
The good news is that there is a plethora of simple to use solutions for collaborating online that are easy on the budget. As opposed to a decade ago, there are more tools than ever and the user experience has been much improved.  In addition, most can be accessed via smartphone apps.
Below are just a few of the many tools nonprofits can use to communicate and collaborate with their supporters and stakeholders online.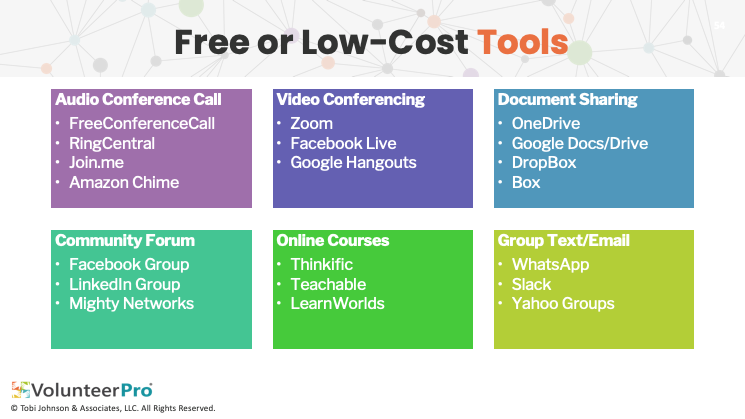 In addition, due to the current Coronavirus crisis, many software providers have special deals going that can benefit cash-strapped nonprofits.
Forbes recently published the post "Free Software That Businesses, Schools And Others Can Use During The COVID-19 Crisis" and continues to update it as new software options come available.
In addition, organizations like TechSoup have negotiated partnerships with software providers to provide reduced pricing for their products.
Today's Best Practices for Nonprofit Communications Online
Now, more than ever, nonprofits must lean into technology as a solution to forge deep connections with fans and followers.
Our nonprofit communications strategies simply need to get better — both during these uncertain times and beyond — if we are to maintain the level of support our agencies will need to sustain and grow our operations.
The need for greater maturity around nonprofit communications and technology won't decrease … ever.  So, maybe it's time to improve how we use it.
12 Tactics to Improve your Nonprofit Communications Today
Decide on a few tools to use and stick with them until your team can master them. Constantly switching platforms or piling too many on will only frustrate your supporters and turn them off to logging in.
Develop a purposeful plan to upskill employees and volunteers. This is NOT the time for a "sink or swim" approach to training. Provide training to participants on how to make the best use of your chosen tech tools. Develop (or link to) quick training videos and simple written step-by-step instructions so your team can get started. Everyone prefers to learn differently, so provide a few different avenues.
Focus on developing hard and "soft" technology skills. Get and give training on both how to run better meetings and how to operate and troubleshoot the software and hardware. Provide individual one-on-one coaching online for those who simply "can't get it." This is a wonderful role for patient volunteers who know how to communicate steps clearly in remote contexts. Have them refer to the step-by-step instructions and a troubleshooting guide, so they have documentation to fall back on.
Test, Test, Test … Did We Say Test? Iron out any technical problems with any systems you are using prior to deployment. But, understand that things will probably break and you will likely not have thought of everything. That's normal when working with tech. So, don't get bent out of shape, but do prepare.
Don't rely only on broadcast email communications. You can't assume that because you are sending information in one direction, it is being heard and internalized on the other. In fact, look at your email open rates – you'll quickly realize that it's not 100%.  So, for important communications, email the info more than once, but with different copy.
To improve meetings and webinars, actively solicit candid feedback. Poll participants after each webinar to see how you're doing. Most software offers pop-up or in-platform polling functionality. Make improvements, as needed.
Keep online meetings focused and engaging. Keep meetings to 60 minutes max; if you have more content, break it up into a series of meetings. Try rotating presenters and facilitators for each topic on the agenda and the leader for each phone call. Start and end on time.
Provide instant support. Make sure technical support is ready via phone and online via the webinar's chat function. Delegate a webinar moderator who is not also the facilitator, speaker, or the person managing the slides.
Actively manage audio interference and distractions. Mute the phone lines during webinars and conference calls. Set up the expectation that when you need feedback, you'll ask each person to chime in. Encourage people to raise their hands electronically or chat in that they'd like to add. Then, un-mute when they have the floor. Encourage the use of headsets and earbuds to improve the sound quality.
Use the interactive tools at your disposal. Many webinar platforms have a chat feature. Some have a Q&A box and the ability to upvote questions. Others have the ability to raise hands, and most have a polling function. Make use of all of these to increase engagement. Ask people to react to what's being shared either in the chat or over the phone, since you are not able to read their nonverbal cues.
Send multiple reminders. Even when people are working from home, they can get distracted. Send three separate reminders about your upcoming meeting, with the link to join. Also, no matter how many times that you say a meeting will be recorded, you will STILL get emails from folks asking if they can get the recording.  You'll need to OVER communicate … always.
Finally, show your face! On webinars, use the video function. If you're sharing slides, your video will appear as a thumbnail. Keeping it on will keep the attention of your audience and improve their experience. If you're meeting with a small group, ask everyone to use a device with a camera and to unmute their audio AND video.