Six Great Reasons to Get Your CVA Credential 
Back in the dark ages, I worked throughout 2012 on the requirements to get my CVA (Certified in Volunteer Administration),. In early 2013, I was awarded my credential.
Back then, it was a whole different ball of wax. Years ago, every candidate was required to submit a CVA Portfolio with their application along with two letters of reference. The portfolio was equal to 50% of the total score for the credential. The exam was equal to the remaining 50%.
Creating the portfolio was a substantial undertaking. It included a Philosophy Statement (100-250 words), an Ethics Case Study (100-250 words), and a Management Narrative (1500-1750 words). Using a peer-review process, trained CVAs scored the submissions based on clearly defined criteria.
At the time, I was already a seasoned nonprofit veteran.
You might wonder why I invested the time and energy into getting my CVA.  After all, I had already hung out my shingle as a nonprofit leadership coach and consultant focused on helping organizations leverage effective volunteer management practices.
But, investing in my professional development, and keeping my skills on point, really made sense. I continue to renew my CVA every five years and will do so as long as I am active in the field.
It may make sense for you, too.
Whether you're a relative newcomer to volunteer administration or you've been at it for years, the CVA is a wonderful asset to add to your professional portfolio.
Also, the requirements are much, much simpler today. Happy day!
To obtain your CVA credential today, it's as easy as 1-2-3.
All you need to do is 1) apply by submitting your Document of Eligibility and 2) submit your resume, and 3) submit one professional reference. Once your application is accepted, you get set to take the exam (see my tips below).
You may still have doubts as to whether now is the time to get your CVA.
Here are a few reasons why I think the process of earning your CVA is so very worth it.
Six Great Reasons to Get Your CVA
You Learn What Drives You Personally – Pulling together, a required piece of the CVA application process, is an eye-opening experience.  Writing it really helped me understand my personal values and unearth why I was so committed to this important work.
You Take Time to Reflect – Reviewing the CCVA's Professional Ethics in Volunteer Management, helped me assess past decisions and pinpoint some approaches I would now choose to do differently.  Taking time out for reflection activities like these supported my continuous learning and growth as a professional.

You Can See How Well You Stack Up

 – Studying for the CVA exam, and reading the textbook, helped me address some of my knowledge gaps and blind spots in earnest.  Since most of us have learned volunteer management through self-study and experience while on the job, it helps to compare what you know with a set of standard competencies developed by respected experts in the field.

You Make New Friends

– Back in the day, I had to find someone to proctor my exam. It was a lot of fun.  It forced me to reach into my local network to connect, and I'm now great friends with the person who volunteered to monitor my exam – in fact, I played on her soccer team!  Nowadays, you don't need to find a proctor, but you still have the chance to network with fellow CVAs in the CVA Network private Facebook group. CVAs are a special group who really "get" it.
You Help Build the Strength of the Credential – The number of people who have an active CVA internationally is small, but growing.  By getting your CVA you help build the ranks and strengthen the trust in the credential as a way to demonstrate professional-level competence. The more people who have their CVA, the more powerful it is in demonstrating that leading volunteers takes both skill and resources.
The Cost is Worth It – at $350 and $110 for the Volunteer Administration: Professional Practice textbook. The total cost is less than most conference registrations, and your CVA will last for five years before you need to renew.  Also, there are ways to save … keep on reading!
So, Just … Go … Do … It!
Ways to Save on Your CVA
If you're wondering how to manage the CVA application fee, here are few ways to save.
Don't Miss Out on Your Application Fee Discounts – If you are an active VolunteerPro Premium Community member, you are eligible for the CVA Member Discount Exam Fee. Make sure you use this link to get $35 off the full exam fee of $350 (you will pay $315 instead, Yay!). Please note: The folks at CCVA check with us to make sure you are a member in good standing. So don't use this link if you are not a member.) Not a VounteerPro member yet? Check the bottom of the CCVA certification info page for other organizations that are partnering with CCVA to offer discounts.
Buy a Used Textbook – While we recommend getting the most recent version of the Volunteer Administration: Professional Practice textbook (adeptly edited by our friend Jennifer Bennett), CCVA notes in their Certification Handbook that other editions will also work for your preparation.  Browse Amazon and eBay to find an older, gently used version or borrow one from a gracious friend.
Closely Follow the Process – Read through the application instructions and Certification Handbook in detail. You don't want to miss any requirements or deadlines that will cost you time and money. If your application is denied, you'll need to re-apply and pay the fee again.
Take the Exam Seriously – I've heard from more than one distressed volunteer manager that they did not pass the exam. The fact is, not everyone does the first time around. Don't let this be you! CCVA does not provide any information or feedback about topics or content missed on the CVA exam. So, get it right the first time. Also, set aside uninterrupted time to take the exam. Let everyone know you are unavailable during that time period, full stop. When I took my exam, I needed the full time allotted to get it done. Here are my recommendations, based on the ways that I studied, and passed, my exam the first time:

Read the entire Certification Handbook and come to the informational webinar with any lingering questions about the process or content of the exam
Schedule chunks of time to read the textbook cover to cover, take notes on index cards for each section related to the key topics noted in the CVA Self Assessment Tool that will be covered in the exam, and study them.
Review the sample exam questions so that you are comfortable with the style and content.
Consider the concepts and recommended approaches from the CCVA's Body of Knowledge, not your own; there are times when we "break the rules" for better volunteer engagement results – the exam tests your knowledge of common industry practice, not evolving innovations, so stick with the textbook.

Don't Wait to Re-Take the Exam – If you don't pass the exam the first time, make sure you schedule yourself to take it during the next exam window (fall or spring). Candidates who do not pass the exam may retake the exam in the next testing window by paying the discounted re-test fee of $95.After that, retesting will require payment of the full registration fee of $350.
The bottom line? Don't shortchange yourself. It takes time and resources to study for and pass the exam. So, honor yourself with the gift of time and attention to your professional development.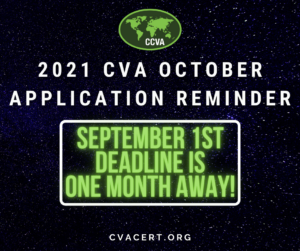 How to Get Your CVA: Upcoming Info Sessions
CCVA hosts testing sessions twice a year. The upcoming deadline for applications for the fall exam is September 1, 2021, making this an excellent time to apply for the credential and study for the exam.
Once your application is accepted, you will be invited to take the exam any time during the October 1-14, 2021 exam window.
Want to learn more about the CVA and certification process? Join the Council for Certification in Volunteer Administration for one of their upcoming informational webinars.
You will hear from current CVAs and bring all your questions.
Webinars will be approximately 90 minutes long. Times listed are in Eastern Standard Time.
Convert to your timezone here >>
Tuesday, August 10, 2021, 12:30 PM Eastern Time (US and Canada)
Register in advance HERE >>
Tuesday, November 2, 2021, 8:00 PM Eastern Time (US and Canada)
Register in advance HERE >>
Wednesday, December 15, 2021, 2:30 PM Eastern Time (US and Canada)
Register in advance HERE >>
Thursday, January 20, 2022, 2:30 PM Eastern Time (US and Canada)
Register in advance HERE >>
If you work with volunteers on a regular basis – and have been in the field for at least three years – I strongly encourage you to make an investment in yourself. Embark on the journey toward your CVA. 
You'll be happy you did. 
For more info on the Certified in Volunteer Administration Credential (CVA), visit the CCVA website.
Certified Already? Why Did You Get Your CVA?
If you have your CVA, please chime in. Why did you decide to apply and sit for your exam? How has being certified been helpful to you?
We'd love to hear your experiences in the comments below!