How to Make Smarter Investments in Nonprofit Training for Employees
We field over hundreds of inquiries a year about nonprofit training options. Often the person who contacts us isn't quite clear on what they want, or better yet, what they really need.  
To help, we've put together this post chock full of advice on how to make the most of your nonprofit or public sector training dollars.  
We get it. Training is an expense. 
But it's also an investment.  
Both an investment in time, but also often an investment in financial resources and, more importantly, the latent potential in your team. 
We've written about how to hire a high-quality volunteer management consultant in a previous blog post. 
But most nonprofits simply don't have the resources to hire a consultant. The costs are higher because the work is more intensive. When you hire a consultant, you are purchasing a "done for you approach." In other words, you are hiring a temporary part-time, project-cased staffer. And the cost will reflect that. 
As an alternative,  "done by you" training is much more affordable. You get the vital information you need from an expert, and your team takes it from there. If the training is well-designed and the presenter is on point, this is an excellent option for budget-conscious organizations. 
Nonprofit coaching falls somewhere between consulting and training. We call this a "done with you approach" where the consultant diagnoses key issues, offers recommendations, and sometimes reviews materials created by staff for feedback.  
One-on-one coaching is a great option for organizations that have a specific issue to overcome and want to do so at an accelerated pace. Private coaching is also beneficial for discussing sensitive topics and for developing proprietary strategies. 
Which ever option is chosen, this investment should reap real rewards for your organizations in either a more inclusive culture, boosted team productivity, decreased staff turnover, greater volunteer capacity, or increased funding.  
In other words, increased sustainability and resilience. 
These are some of the most important goals for nonprofits in these uncertain times. And the right training, offered at the right time, to the right people (AKA better talent management) can help your team sharpen their skills to make calculated pivots, weather the storm, and emerge victoriously. 
If you find a training offer that does all the above, you have hit the jackpot, my friend! 
How to Decide When to Invest in Nonprofit Training
Investments in nonprofit training should help your agency get results. The best training helps you reach goals faster and more directly with less trial and error. 
Certainly, many things can be (and are) learned through experimentation and experience. But doing so wastes time and energy and often generates higher levels of frustration in employees and volunteers. 
In addition, when organizations evaluate whether to invest in training solely on a financial cost basis, they often miss out on the opportunity costs related to inaction. In other words, when nonprofit training opportunities aren't taken, then the chance to gain traction in a focused way is often also lost. 
With budgetary constraints in mind, supervisors and staff must make informed, clear-cut decisions about what training makes the most sense. 
While high-quality learning experiences are an effective management intervention and support for both employees and volunteers, they are not a panacea for all issues that may plague an organization. 
Training should be geared at solving a key problem standing in the way of your agency, program, or individual's success. 
To ensure you are actually solving the real problem, and not wasting your time and resources, you'll need to define which learning gaps you are attempting to address. Do this before you decide that training is indeed the solution. 
Employee Performance Gaps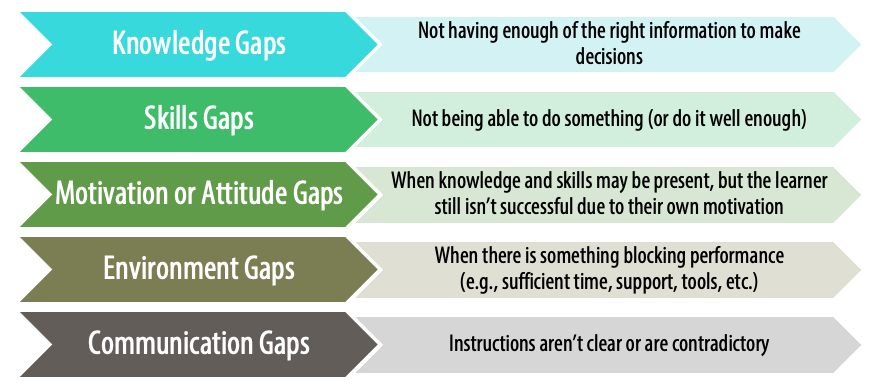 While knowledge gaps (not having enough of the right information to make decisions) and skills gaps (not being able to do something or do it well enough) can be addressed through effective training, other kinds of gaps are not likely to be remedied through a workshop or course. 
Motivation or attitude gaps exist when knowledge and skills may be present, but the learner simply isn't motivated. In this case, it could be that the job fit isn't right or that there is a larger morale or organizational culture issue at play. In these cases, no amount of training will solve the barrier to performance.  
Similarly, when environmental gaps exist, the learner can have all the knowledge and skills needed, but the resources aren't there to make it happen. These might be sufficient time, support, tools, etc. 
Finally, if there are team communications gaps, and direction or instructions aren't clear or are contradictory, then training can't help the employee either. Although it may help the supervisor to learn how to delegate more effectively.  
So, it makes sense to evaluate why you aren't getting results before you make the investment in nonprofit training to be sure you'll solve the problem in front of you. 
That said, if the issue has to do with employee confidence, leadership skills, or issues with employee turnover training may help, particularly when it is deployed during new employee onboarding.  
The bottom line? Training is all about impact. 
 Quality Training Addresses Performance Gaps & Boosts Productivity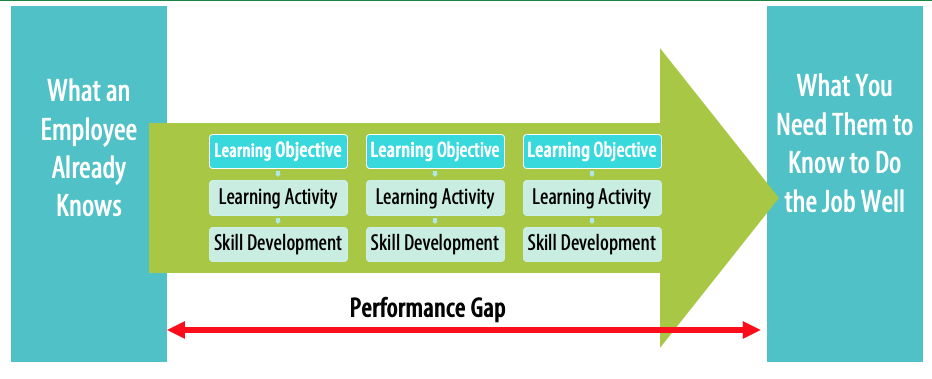 So, when is training for nonprofit staff the answer? Below is a quick checklist. 
Note that while the need for training relates to the need to expand employee competencies and capabilities, it does not mean the staffer lacks value to the organization or is failing in some way.  
In fact, it's quite the opposite. The investment nonprofits make in training employees should more often indicate their faith in the future potential of the person to add value and contribute to the agency's success. 
Those who can make the most of training opportunities should be afforded the chance to do so as often as possible. 
Five Clues That Training Is Needed:
Employees are stuck in a "we've always done it this way" mentality

 – While 

at first glance, this

 seems like a motivation issue, it may 

indicate

 a deeper problem. The employee may be hesitant because they simply 

don't

 know a new or better way

. 

In this case, training can help. 




 

Despite diligent work, the team is unable to get traction or improve results

 – Sometimes the strategy or tactics being used simply aren't the appropriate interventions. Training can help uncover new ways of approaching a problem and better tactical methods to get results. We find this is particularly true when staff employ "old school" volunteer recruitment approaches, for example, that do not reach today's volunteers where they are at (e.g., online).




 

Employees are new or have accepted a new role at the organization 

– Staff transitions are ideal times to offer training so that the employee learns "what's working now" strategies and can make any needed program improvements immediately. Focused training helps new employees, or those who have been promoted build confidence and get started off on the right foot
The current context for work is rapidly changing or uncertain

 – Changing times (AKA a global life-threatening pandemic!) often require new innovations and "out of the box" approaches

. 

Training from an expert can help staff see the forest through the trees and find a new path forward with greater clarity and focus.




 

The organization has bold goals for the future

 – Similar to being unable to gain traction, sometimes employees are unable to scale fast enough with their current set of knowledge, skills, and abilities. When a targeted investment in a specific approach through training or coaching can generate faster rewards than simply 

seeing what happens

, the investment is well worth it. Employees are more likely to embrace change and ambitious goals when they feel confident in their ability to pull it off. In these cases, training can help.

 
How to Choose a Nonprofit Training Provider
Firms that provide professional development services differ in both their direct experience in the sector and their ability to design and deliver high-quality training that results in employee development and growth. 
While most employees enjoy the training experience, what makes it hugely successful is when what is learned is deployed successfully on behalf of the organization. While "general education" can bring us all joy, nonprofits must be good stewards of the funding they receive. So, training must be practical. 
Courses that focus too much on theory and not enough on "boots-on-the-ground" takeaways can leave employees enlightened, but with nowhere to go. A high-impact training experience couples a theory with practice and offers real-world next steps for students. 
Our 4-week Volunteer Management Fundamentals Course: Open This Spring
It's also important for organizations to clearly pinpoint how the training solution will solve their presenting issues and what transformation they hope will occur. A professional provider will make this clear in both their training description and will be willing to discuss these with prospective students. 
When we work with training and consulting clients, we will often ask – "In a perfect world, what would happen at the end of this training?"  This helps us surface the agency's goals and desires for its team. It also helps us determine whether training is the appropriate avenue. 
It also helps to share your ideal timeframe and general topics for the training with a potential instructor. A quality service provider will be honest about what can be achieved in the available timeframe (as a benchmark, about three learning objectives can be taught in one hour of presentation time). 
Moreover, if learner interaction with the expert and student peers is desired, more training time is needed to give the discussion a chance to bear fruit and result in real insights. 
We often see requests for training or conference proposals that suggest "a highly interactive workshop that covers multiple learning objectives" that should be presented in one hour. Undoubtedly students and nonprofit training sponsors will leave disappointed. 
When vetting potential candidates to design and lead your next training or courses employees might enroll in, consider exploring the items below. The more prepared you can be when you make contact, the more likely you are to find just the right person for your needs. 
Checklist for Contracting 
with
 a Training or Course Provider:
What is their professional experience?

 – You'll want to know their experience with both the subject matter and instructional design and delivery. Simply because someone has worked in the role or completed the tasks being trained in the past does not mean that are an expert trainer. Death by PowerPoint does not result in positive learning outcomes.




 

What do others say about their training style and impact?

– Does their website feature credible endorsements or testimonials

? 

If not, will they 

provide

references
What tools or platforms do they prefer for live training?

 – If planning a virtual training, you'll want to know whether they will be using your webcasting platform or theirs. You'll also want to know what interactive tools they prefer you can determine the best option (not all include Q&A, chat, polling, etc.).




 

What platform do they use for on-demand courses and how long will students have access to it?

 – 

Online courses

 and learning communities (like our established 

VolunteerPro Premium Membership experience

) are becoming all the rage and for good reason. Courses can be combined with live group or individual coaching calls and a student discussion forum. Students get ongoing access to review materials and work at their own pace. Often providers offer discounted rates for groups and students sometimes get lifetime access, depending on the course. Courses can be event-style (usually 4-6 weeks of "dripped" content) or a single, shorter one-off (with an hour or two of content).

Our online courses

 include recorded videos, downloads, review quizzes, and completion certificates for a full 360-degree experience.




 

 

How are the fees structured?

 – Is it per person or for the group? If it is a group, are there bulk discounts, and is there a seat limit? If presented online, virtual webcasting plans have a seat limit, but that limit can be boosted with additional fees. It's helpful to know if those will be passed on to the customer. 




 

How will intellectual property be handled?

 – Unless specified in writing, ownership of the training content remains with the training provider. In these cases, steps should be taken by the client to protect this asset by ensuring that only registered students are given access to the materials. This ensures that the trainer can continue to market their courses to others and stay in business. 

Alternatively, intellectual property can be granted to the client by the trainer. Most often in these cases, the provider creates a bespoke curriculum for the client, and they are free to use it as they wish in the future. But these arrangements are naturally more expensive and often out of reach for budget-conspicuous nonprofits
If you take some time to determine concrete training goals and select a training firm with the appropriate level of expertise in your area, you will be sure that your nonprofit training dollars aren't wasted and that you are setting employees up for success. 
Instead of thinking of training as simply a cost that impacts your budget, think of it as an investment in your bottom line – your people.  
They are the true lynchpins to your charity's sustainability and resilience.