4 Ways to Beat Nonprofit Burnout: For Superheroes & Leaders of Volunteers
The potential for nonprofit burnout in staff and volunteers is a hot topic lately. 
And for good reason.  It's been a stressful two years on many fronts.
It's no wonder people are struggling with how to manage it all.
We've been talking a lot about work-life balance and time management for volunteer managers inside our VolunteerPro Premium Membership Community, but we'd also like to share some ideas for folks who haven't had a chance to join yet. 
Here's the deal. 
Our goal is to see volunteerism grow and thus improve the world.  
We know that can only happen when leaders of volunteers are supported and uplifted to do their best work.  
Some of that means encouraging each other to take control of the stress in our work life. Then again, some factors that keep you off-balance and unproductive are beyond your control. 
So, today we want to talk about what to do when you're pushed too far and are edging into (or have already reached) burnout.  
For mission-centric people, these can be dark days where the work no longer seems to matter, and the joy is gone. 
Unfortunately, it's common in our field.  
Therefore, we need to make it a point, amongst volunteer managers, to hold burnout at bay.
This work is so vital to our communities and our missions and if the very people who make volunteerism magic are wiped out, we're all in trouble. 
Let's take steps, for our volunteers, the missions we serve, and for ourselves, to make burnout a thing of the past.
Here are a few concrete suggestions, just for volunteer managers. 
Use Your Vacation Time
Vacation always seems to be at the top of all self-care lists, and for good reason. A stretch of days where you truly unplug has many mental and physical health benefits that can help lower your overall stress level. 
But what about when you can't take a vacation? 
We need to hold sacred all "off" hours, regardless of where they are spent or how many involve a cool drink and a beach chair. Find the boundaries of your work life and hold them tight. 
At the same time, when you love your work, it can be difficult to know exactly where to place those boundaries.  
What if you also set some "off" time at work? What if you carved out just a half day a month to dive into the pile of interesting articles you've saved but never find time to read? 
What if you could schedule the time to pause and reflect on your work to improve it?  
In our go-go-go world, this may seem counterproductive, but conversely, there is nothing more productivity-sapping than being miserable and burnt out. 
Find a Community
The feeling of isolation is a major contributor to nonprofit burnout. It's one thing to feel overworked. It's another thing entirely to feel that way and feel alone. 
Nonprofit leadership can be hard.  It can also be lonely.
Community may be something your you build inside your organization, or it may be something you find with others who do similar type work. As social beings, it's deeply important to our wellbeing that we "find our people," especially when faced with challenging situations. 
If you are a "department of one" or have trouble building community with your co-workers, consider finding an online community. 
Of course, we're partial to our own community of fantastic professionals, but that's just us. You do you. 
Wherever you find your inner circle, make sure these are the people who will help you travel through frustrations and challenges, celebrate your wins and commiserate your disappointments. And make sure that they will be honest with you when you start to show signs of burnout. 
We don't just build community because it's fun. We build it because it's vital to our well-being and growth. 
Take Charge of Efficiency
Your work style may be a cause for some of your stress. We all have points of inefficiency in our days. Sometimes, though, we don't even know how much more efficient we could be. 
One way to boost efficiency is to create redundancies that can be replicated with little-to-no effort on your part. Don't rewrite the same volunteer check-in email – write one good one and make minor adjustments for each volunteer.  
Don't hunt for documents and policies every time you need to make a new volunteer training manual. Take the time to organize your stuff and shave tons of time off this task. 
Seek out tools that make your life easier. Why waste your time creating a volunteer intake form when there are great templates out there from experienced pros?  
Make a point to find and incorporate proven tools and templates. Not only will they save you the time of creating them yourself, they may even be better than what you'd create on your own. 
Get Some Support
One of the things we're most proud of is our vibrant and energized network of members and students at our learning hub, VolunteerPro.  
They aren't immune to burnout, but they are keeping it at bay with constant access to inspired knowledge, a community of like-minded volunteer professionals, and a vault of field-tested tools and templates.  
Every week we hear from members and students about the successes they've had by implementing techniques or ideas generated from VolunteerPro volunteer management courses or the knowledge of our community. Seeing these program transformations is our greatest joy and the one thing we wish for all volunteer managers. 
Too often we see volunteer managers spinning their wheels and digging themselves deeper into a state of burnout.  
In a world that, more than ever, needs the magic of volunteers, we like nothing more than to help volunteer managers like you to jump out of those ruts and to accelerate toward a happy, healthy state of productivity and growth.  
We know that your program and your work do not always get the respect they deserve. 
Our members and students regularly cite increased buy-in and understanding of volunteer value after gaining the tools and education to build a powerhouse volunteer program. 
So, whether you learn from, us, or learn from others, make sure you have a plan to continue to build your leadership skills as a prevention against nonprofit burnout.
For more tips, check out How Cultivating Professional Boundaries for Volunteer Managers Can Help Banish Burnout HERE >>

How to Reduce Nonprofit Burnout When Working Remotely
In addition to taking steps to prevent nonprofit burnout noted above, it's also important to note that working effectively online takes special consideration, too.  
It is not as simple as transferring what you do in-in person to an online context. Working remotely can add other, sometimes "invisible" stressors, too. 
Research from Stanford Virtual Human Interaction Lab (VHIL) has found that videoconferencing has real impacts on our energy levels. Their studies have found that … 
Excessive amounts of close-up eye contact is highly intense;

 

Seeing yourself during video chats (constantly in real-time) is fatiguing;

 

Video chats dramatically reduce our usual mobility;

 

And the cognitive load is much higher in video chats.

 
While we may think that having more video conferences and meeting is the best way to deepen relationships online, researchers have now discovered that it comes at a cost. 
Researchers have noted that we are fatigued by video conferencing because we are smothered with gestures that are" perceptually realistic but socially meaningless." It can add to our exhaustion levels. 
There are some things you can recommend your teams do so that they reduce the possible impact of fatigue from video conferencing. 
To make it easier, create norms around these, so people don't feel guilty turning off their video cameras. 
Here are more steps your team can take to Zoom fatigue: 
Minimize size of the video window in the monitor to minimize face size

 

Use an external keyboard to increase your personal space bubble

 

Hide "hide self-view" (access by right-clicking your photo)

 

Turn your body away from the screen and go "audio only" periodically

 

Turn off your video off periodically to give yourself a nonverbal rest

 

Host old-fashioned phone conference calls when visuals aren't needed

 

Reduce the number of meetings and share info in other ways

 

Have team members assess their current levels of fatigue

 
Free Tool to Tackle Burnout: Zoom Exhaustion & Fatigue Scale (ZEF Scale)
The ZEF Scale is a free 15-item questionnaire that has been tested and is reliable.  
It asks questions about a person's general fatigue, physical fatigue, social fatigue, emotional fatigue and motivational fatigue. 
It a great start for conversations and for developing ground rules around how you will video conference and also engage in self-care along the way. 
Assess Your Current Level of Burnout – Take the ZEF Assessment HERE >> 
Reduce Nonprofit Burnout & Fatigue with More Control & Predictability
If you are tasked with building, growing, and scaling your volunteer efforts in 2022, you may feel a little overwhelmed. After all, it's a lot to tackle in today's climate. 
One thing that can help is developing systems and frameworks that add more predictability to your practice. Knowing what comes next, and what levers to pull to influence a specific result are super helpful to working in a calmer, more methodical way. 
If you're not feeling completely organized around your volunteer program or strategy, and you're just not sure what steps to take next, then our signature online course is the perfect fit for you.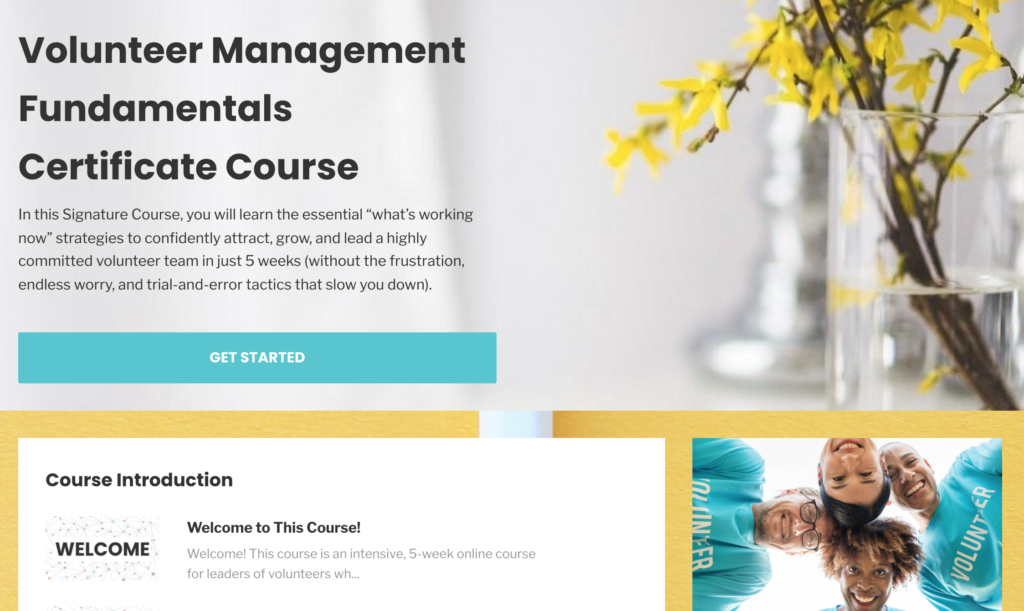 Joins the Wait List for Our next Session – Volunteer Management Fundamentals Certificate
Join us for the most comprehensive program in the field for leading a high-impact volunteer engagement strategy that works. 
This online course is the only implementation program of its kind that not only shows you exactly how to attract qualified volunteers – but how to make your org the place they want to return to repeatedly.  
Over 5 weeks of instruction, combined with weekly live Q&A coaching calls, you will learn everything you need to implement or make improvements to your volunteer programming. As a student, you'll also be invited to our live Q&A coaching calls and have lifetime access to the course. 
Isn't it time you stopped hunting and pecking for answers and spinning your wheels on a half-baked volunteer strategy? Now is the time to get your systems in place with our help. 
The Volunteer Management Fundamentals Certificate is the complete package to help you get there!