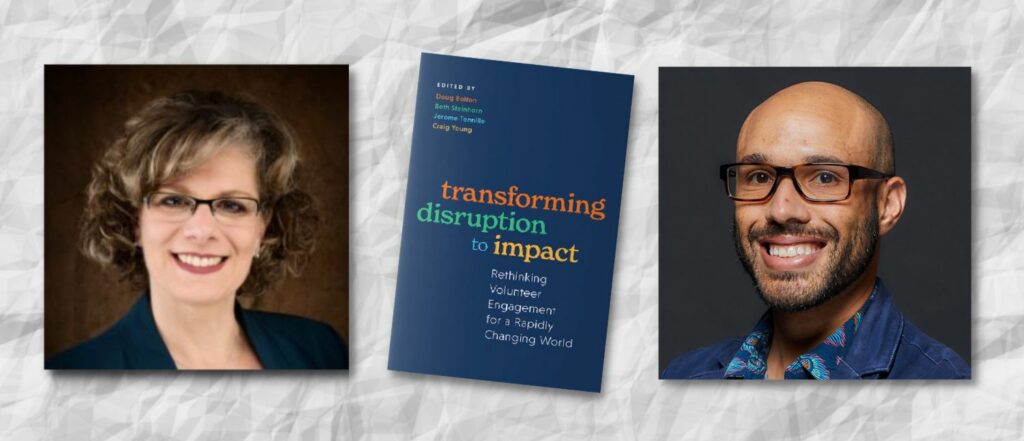 Episode #030:

From Volunteer Disruption to Impact with Beth

Stein

horn and

Jerome

Tennille
This week, Tobi welcomes authors Beth Steinhorn and Jerome Tennille to discuss how organizations have responded to the volunteer disruption they've experienced over the past few years, and what lessons can be learned.
Volunteer Disruptions During the Pandemic
The pandemic brought many vulnerabilities to light in our sector and sparked some innovation in spite of the challenges nonprofits faced due to lockdowns.  
Ageism, fear of transmitting the virus, shutdowns, loss of in-person volunteering along with an increased need for many services…these are just a few of the volunteer disruptions we all faced over the last few years. This upheaval, and the changes it brought about, inspired the latest book from Beth, Jerome, and their team: Transforming Disruption to Impact: Rethinking Volunteer Engagement in a Rapidly Changing World.  
Tobi chats with her guests about this book, and whether the way we approach volunteer engagement itself is in need of an overhaul (and the pandemic simply brought this into high relief for volunteer-involving organizations).  
Transforming Disruption to Impact: Rethinking Volunteer Engagement in a Rapidly Changing World
Throughout the book, leaders share stories of innovation and volunteer disruption, despite the odds.  Tobi asks her guests to share some of their favorites, and what they discovered were the biggest opportunities for our sector to evolve. 
Beth and Jerome also share ways that technology played a part in the evolution of volunteer engagement, and how are folks – spurred on by the necessities from volunteer disruptions – innovated around tracking and communicating the impact of volunteer initiatives.  
Aha Moments Resulting From Volunteer Disruption
Finally, Beth, and Jerome share some of the "aha" moments discovered during the process of writing the book, and how the difficulties around volunteer disruption can also bring about the most creative innovations as well. 
Highlights on Volunteer Disruption
00:02:06 Beth shares her background and the work she currently does through her organization VQ Volunteer Strategy 
00:02:53 Jerome explains the service he provides companies in his role as a corporate responsibility consultant  
00:04:14 Beth and Jerome talk about their new book, a thoughtful collaboration of four editors titled Transforming Disruption to Impact: Rethinking Volunteer Engagement in a Rapidly Changing World 
00:08:14 Jerome and Tobi discuss the importance of innovation in volunteer management, especially in regard to the massive volunteer disruption experienced over the last few years.  
00:10:11 Beth discusses the four sections of the book and how each one focuses on a different facet of innovation 
00:25:39 Tobi, Beth, and Jerome discuss the barriers to organizations fully embracing volunteerism as an impact strategy deserving of full investment, and how to bring about change in this area.   
00:32:46 Beth and Jerome share some of their favorite stories from the book on innovating thinking around volunteerism. 
Quotes about Volunteer Disruption
"If volunteer involvement is viewed as a program, then volunteers are pitted in competition with other beneficiaries for resources, and of course that volunteer piece would be cut if they're in competition with the people being served by the mission of the organization. But when you treat them as partners, then it's a strategy to help achieve other goals." 
"One of the challenges is the very limited way that we in the industry continue to talk about the impact volunteers have, when all we do is count hours…and worse yet, equate those hours to some dollar amount that is often higher than many of the staff paid staff members are making." 
"I happen to believe that service volunteer engagement can be a vessel for multicultural understanding and removing implicit bias and thus, building empathy." 
I'll tell people, I have supervised paid staff. And I've supervised unpaid staff. I can tell you that leading unpaid staff is harder. You have to have much more talent. And it's not only the leader of volunteers that has to be the person leading. The whole organization has to understand how to work in partnership with people who have a myriad of talents to bring to the table." 
Want More? Check out Our Time + Talent Podcast!

Whether you're looking for solutions, inspiration, or just want to hear what others are doing to successfully engage volunteers, Time + Talent is the podcast for leaders of volunteers.
Co-hosts Tobi Johnson, MA, CVA and Jennifer Bennett, CVA bring you uplifting and insightful conversations with thought leaders and volunteer management practitioners who are redefining their roles, and the roles of volunteers.
About the Show
Nonprofit leadership author, trainer, consultant, and volunteer management expert Tobi Johnson shares weekly tips to help charities build, grow, and scale exceptional volunteer teams. Discover how your nonprofit can effectively coordinate volunteers who are reliable, equipped, and ready to help you bring about BIG change for the better.
If you're ready to ditch the stress and harness the power of people to fuel your good work, you're in exactly the right place!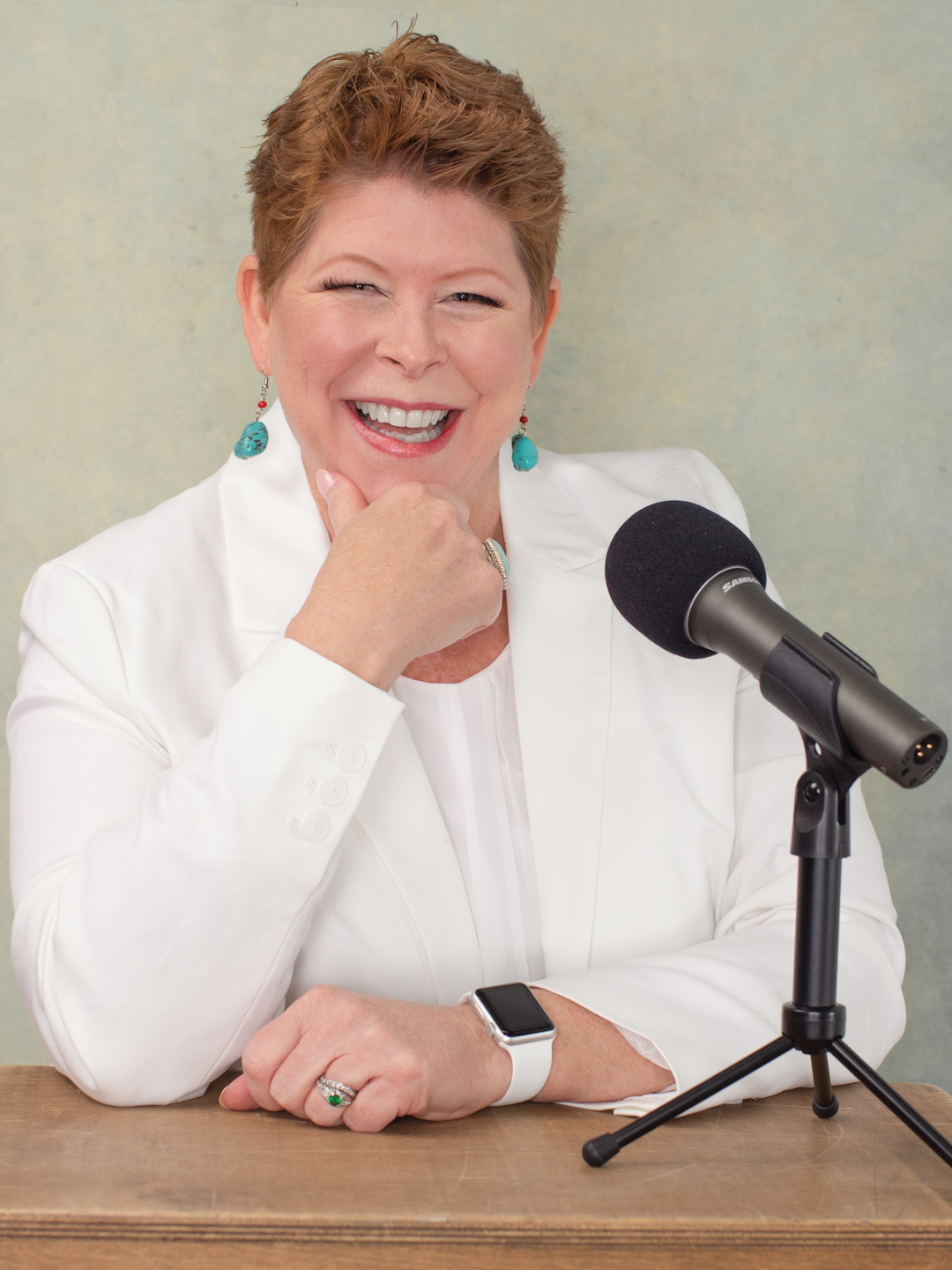 Contact Us
Have questions or suggestions for the show? Email us at wecare@volpro.net.
Rate, Review, & Follow Us on Apple Podcasts
If you love the content Tobi shares on the Volunteer Nation podcast, consider rating and reviewing the show! This helps us reach more people – and help more good causes just like yours – successfully engage enthusiastic, dedicated volunteers with less stress and more joy.
Click here, scroll to the bottom, tap to rate with five stars. Then, select "Write a Review" and let us know what you loved most about this episode!
Also, if you haven't done so already, follow the podcast so you don't miss a thing. Follow now!
Subscribe to ProNews: Our Weekly Resource Roundup
If you'd like to stay up to date on all new podcasts, blogs, freebies, and deals posted on our Tobi Johnson & Associates and VolunteerPro websites, subscribe to our weekly ProNews newsletter.
Every Wednesday, we'll send you a digest of our freshest content, plus a bonus! Once you confirm your subscription, you'll get our [Free eBook] The New Volunteer Manager: The First 90 Days.