Coordinating Volunteers in a Crisis: How to Stay Grounded & Keep Your Sanity
With the recent surges in COVID, for many it still feels like we're coordinating volunteers in a crisis. And, after two years of constant stress, it can begin to wear on a person. 
If you are feeling fatigued, worn out, or losing hope, it's time to take stock and make a conscious decision not only about how you will continue to coordinate volunteers through a crisis, but also how you will support your own state of mind and spirit. 
The good news is that you can do both – support volunteers and support yourself – without compromising either side of the equation. 
The Double Challenge of Coordinating Volunteers in a Crisis
When people ask me what I do, I tell them I work in the world of volunteerism, helping a niche of a niche of a niche of a niche.  
In other words — a niche (organizations) of a niche (charities) of a niche (nonprofit staff) of a niche (leaders of volunteers).  
However, in a world where the importance of volunteerism is constantly questioned, most people aren't aware of what that means. 
They look at me like I'm nuts. Go figure. 
But isn't that how it is? 
Do you ever feel like a Russian Matryoshka doll? That the importance of volunteerism is the teeniest, tiniest doll nesting right in the middle of layers upon layers of systems, people, bureaucracy? 
Your volunteers are at the center of the action, but your diminutive size makes it hard to have any power or say in your organization's business. 
When we reviewed the responses to this years Volunteer Management Progress Report, we couldn't help but notice recurring themes of buy-in, respect, frustration, and even anger about the positioning (and resourcing) of volunteerism, even now. 
It appears we still have work to do. 
We all know this isn't rocket science. Volunteers are lynchpins of success and should be valued as such. Period. 
But when will people get it? 
This is only compounded when we are also juggling a shifting array of policies and requirements in a pandemic with no end in sight. 
Coordinating volunteers has certainly become even more complicated and difficult to pull off with ease. Even more so when we don't get the support we need. 
3 Tips to Stay Strong when Coordinating Volunteers in a Crisis
While it's true that coordinating volunteers in a crisis is more difficult that in "normal" times, you can take steps to keep your sanity.  
But rather than feel disempowered, dismayed, or downright grumpy about the lack of buy-in surrounding volunteerism in these times, consider these tips to lift you up.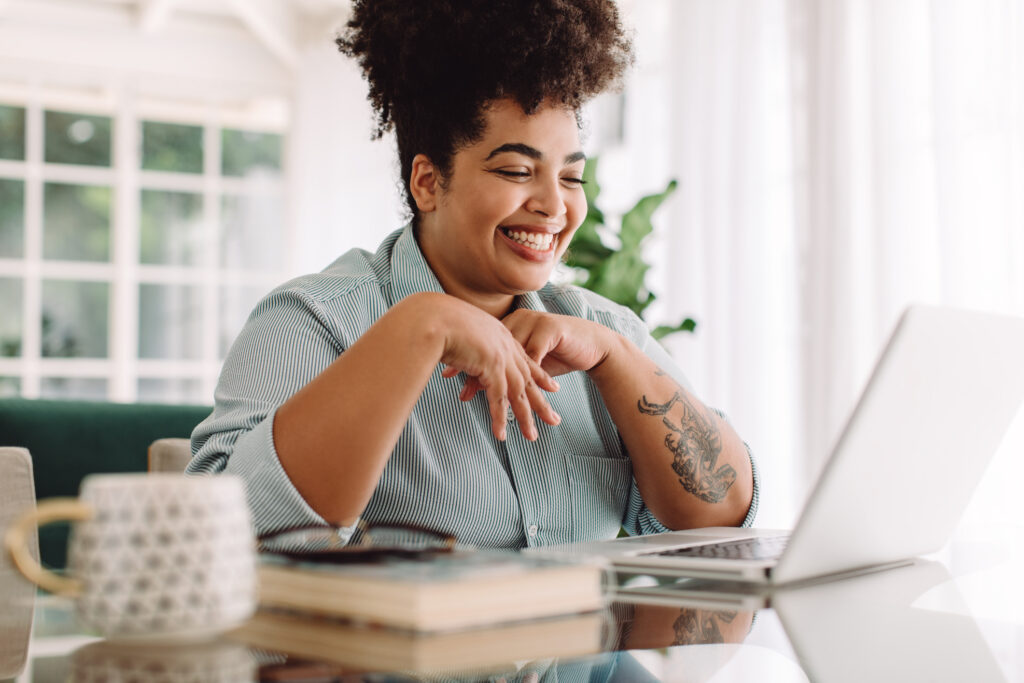 These actions will both strengthen you and offer added benefit to your volunteers and your organization with newfound insight and inspiration. Focusing on YOU can be a big win for others, too! 
1) Plan to Attend a Virtual Conference or Online Training   
There's no time like the present to organize ourselves, connect with others, celebrate, learn, network and engage with leaders of volunteers just like you.  
It doesn't help you to suffer in silence. Enroll in a group event our course and make sure you network as much as possible. Making connections and building professional friendships can reduce feeling of isolation and help you see that you are not alone in your struggles. 
Look for events that include:
Panel discussions, educational workshops, seminars, parallel events, and interactive activities to get the most out of your time.

 
Inspirational keynote speakers that give you the confidence you need to go home to implement ideas for impact.

 

Innovative and interesting topic s that are relevant to the challenges or projects you hope to complete

 
2) Beat Despair Through BIG Generosity 
Now isn't the time for competition and turf tussles. The field of volunteerism will be stronger if we work together. Around the world, we all are coordinating volunteers in a crisis (or helping those who are doing so.). Reach out and help someone else who is struggling to get by. 
Generosity can mean different things to different people, so pick what works for you. 
Generosity in the field of volunteerism might mean:
Not regarding your peers as "friendly competitors" but more like trusted partners in crime. I know this can be hard with those that compete for the attention of your audience but try anyway, it will pay off.

 

Graciously sharing, liking, and amplifying the messages of all involved in our field through social media, word-of-mouth, etc.

 

Not speaking disparagingly about our peers, volunteers, or other nonprofits in public, which can paint a lousy picture of volunteerism as a whole.

 

Contributing your time to one organization that helps further our field. There are many nonprofits and

associations that can use your help

. Find one and give what you can!

 
3) Get Volunteers Involved … for Real  
Volunteers can be very attuned to your organization's dynamics. If you are feeling the pain, they no doubt feel it, too. Help them become better advocates for your department, organization, and volunteerism in general. 
Imagine what might happen if volunteers and donors around the world publicly united in support of volunteerism and philanthropy. 
You might equip supporters to champion volunteerism by:
Openly sharing the challenges volunteerism faces in today's world with volunteers (in the US, rates are declining, etc.) and gathering their insights and solutions.

 
Modeling volunteer leadership by including volunteers in agency strategy sessions, trainings, and meetings.

 

Preparing every volunteer with talking points and tactics to be a positive brand ambassador for your cause and for volunteerism.

 

Working with other nonprofits to form a local volunteer coalition to give testimony to the power of community engagement.

 
Yes, even after years of advocacy, volunteerism is still fighting to break out of its mold and find a place at the table. Our just desserts aren't going to come by working individual-by-individual. 
We'll need a collective consciousness to bring about lasting changes in perceptions. 
Combat Fatigue and Cynicism with Optimism Leadership 
The continued act of coordinating volunteers in a crisis not only takes its toll on our physical energy, but it also saps our emotional reserves, too. 
Years ago, I created a humorous animated video about the fictional volunteer interview gone awry. Several people commented on the bittersweet nature of the content — "'Tis sad, but true. The volunteer-organization communication divide is alive and well." were common sentiments.  
Watch my tongue-in-cheek video "Even Superheroes Get the Blues" HERE >>
The video also touched a nerve with a few people who are still frustrated with the state of affairs. They asked for some advice on how to engage with optimism leadership in a challenging environment.  
Here is one thing I suggested that worked for me – actively engage in optimism leadership. 
I'm not talking about being a Pollyanna and ignoring the state of tings. But what I am speaking of is an active way to train your brain to see the good. 
Here are some ways to do so. 
Six Tips to Re-boot or Engage in Optimism Leadership
1) Own It — A few years ago, a dear friend gifted me a subscription to the Daily Motivator, an email of daily affirmations that are sometimes corny, but often wise. The most valuable lesson, and a theme that is infused throughout almost every essay is that there is only one person who can change your frame of mind — you.  
The most important step for me was understanding this core principle — It really helps me stay focused on what I can control (i.e., my own actions) versus wasting energy on things and people that I can't. This focus requires constant tending, but it's worth it. 
2) Protect It — If you find your own slice of inner peace, protect your sanctuary! This is particularly challenging for people in the helping professions, like us. We take pride in being compassionate and caring, however, taking on other people's problems can also sap us of energy and optimism.  
Be sure you set clear boundaries and communicate what kind of behavior and attitudes are acceptable in your air space. Although you can't control other people, you can certainly control how much of your attention you spend on them. And , as my good friend and one of the most motivating people alive, Robert Mitchell, once advised me "Tobi, sometimes you just have to give them the 'gift of goodbye'." 
3) Expand Your Field of Vision — I try to regularly read business books, blogs, articles, etc. that are not necessarily geared toward nonprofits. They often offer new solutions and fresh insights to the problems I'm helping my clients with — for example, check out Switch: How to Change Things When Change is Hard, by Chip and Dan Heath.  
A client and I tweaked some of the strategies in the book to pro-actively address potential resistance to a new performance enhancement initiative. And, Voila! It worked!  
4) Get a Dose of Vitamin "I" — I stands for "Ideas."  When I'm uninspired with myself or the world, I stream quick 15-minute Ted Talks on my laptop to see what the smartest and most creative people in the world are thinking. They may not relate directly to what I'm doing, but the ideas are fascinating and usually the speakers are upbeat and have a great way of engaging with their audiences.   
There are a bunch of gratitude and optimism iPhone Apps that can help you reclaim your happiness. Give one a try!
5) Give Your Brain a Break — Humor is a great way to distract your brain from all the stress and worry that's bringing you down. So, take time to watch and read things (and hang out with people) that make you giggle.  
 Also, here's a list of top humor websites you can check out. 
6) Cultivate Patience — Although I really do wish there was an App that would magically adjust my attitude (and with all the funk in the air lately, I could sure use it!), it hasn't arrived yet. So, I try to take the long view, if I can, although this isn't my strong point.  
So, that's what I do to stay grounded and keep moving forward. Coordinating volunteers in a crisis can take its toll physically, emotionally, and spiritually. 
Make sure you take steps to keep yourself energized and going strong with things that bring you joy. Take a vacation if you need it – here's how to do so and not feel guilty about it! 
The world needs your talent more than you know.  
Recharge Alongside an Inspired Group of Go Getters Like You!
One of the best things you can do to acknowledge the valuable contributions of volunteers is to give them an exceptional place to do their work. It all starts with solid volunteer program design and impeccable implementation.  
Our volunteer management certificate course helps you develop systems and frameworks that add more predictability to your practice, including how you match volunteers. Knowing what comes next, and what levers to pull to influence a specific result are super helpful to working in a calmer, more methodical way. Your volunteers will benefit, too! 
If you're not feeling completely organized around your volunteer program or strategy, and you're just not sure what steps to take next, then our signature online course is the perfect fit for you.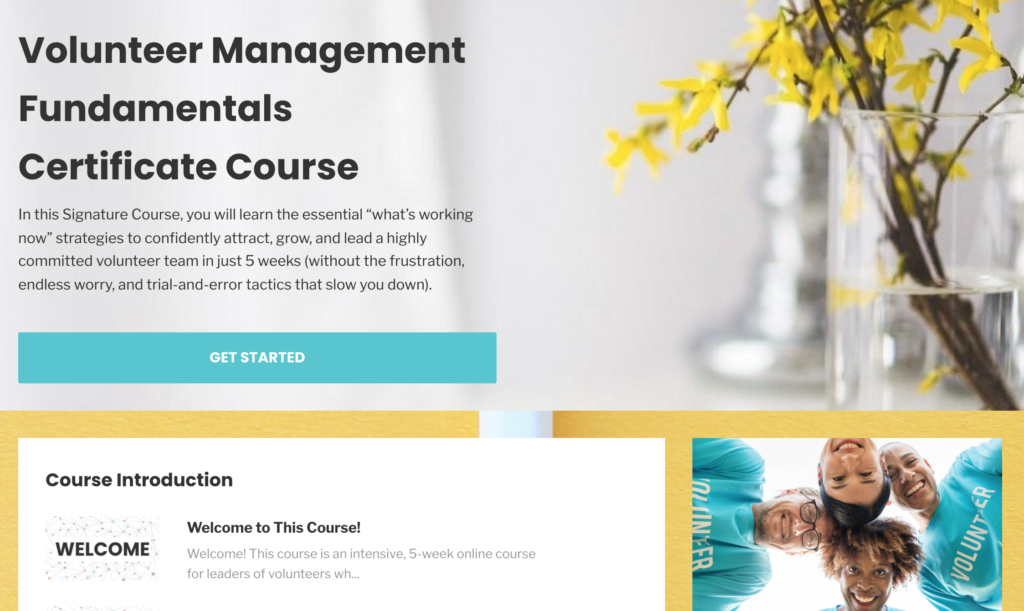 Join the Wait List – Volunteer Management Fundamentals Certificate
Join us for the most comprehensive program in the field for leading a high-impact volunteer engagement strategy that works. 
This online course is the only implementation program of its kind that not only shows you exactly how to attract qualified volunteers – but how to make your org the place they want to return to repeatedly.  
Over 5 weeks of instruction, combined with weekly live Q&A coaching calls, you will learn everything you need to implement or make improvements to your volunteer programming. As a student, you'll also be invited to our live Q&A coaching calls and have lifetime access to the course. 
The Volunteer Management Fundamentals Certificate is the complete package to help you get there!