This is How to Create a Successful Volunteer Engagement Strategy – Part I
This is part 1 of a series. See part 2 for more on structuring your volunteer program.
I often get asked what a complete nonprofit volunteer engagement strategy looks like.
What are the pieces? What's really necessary to get results? How should staffing be structured? How can we pull everything together into a cohesive whole everyone can understand?
So, this week I break it down, soup to nuts.
With the hustle and bustle of day-to-day tasks, it's hard to find time to reflect on whether or not your current approach is the best one. Do you have a solid foundation in place that is getting traction? Or, are you going through the motions because "we've always done it this way?"
Taking time to develop a purposeful, ethical, and sustainable model for volunteer involvement can help set the stage for success. Planning for the full volunteer lifecycle can also help you communicate to others the complexity of your work and what kind of support and resources you will need.
Volunteer engagement is both challenging and rewarding. And, in today's world, it's getting more and more complex. It takes a real strategy to pull it off successfully.
In this post, I'll show you how to think through the key elements for your success.
The Volunteer Engagement Cycle
One of the simplest ways to envision what needs to be done is to build a strategy around the volunteer engagement cycle. This approach takes into account each step of the volunteer journey from planning to first touch to onboarding to continuing engagement to departure.
Although nonprofit organizations often focus a tremendous amount of time and energy on recruitment, screening, training and recognition, all steps are important for creating an infrastructure where volunteers can be successful.
In addition, in order to have successful volunteer engagement strategy that gets traction and builds momentum, someone needs to be responsible for each step in the volunteer engagement cycle. These responsibilities may fall on the individual shoulders of the volunteer manager, coordinator, or director.
However, because these tasks are so wide-ranging and time intensive – and they often overlap with other agency functions – it's often a better option to distribute these throughout departments such as volunteer services, human resources, development, communications, and marketing.
In this way, your volunteer engagement strategy should be integrated throughout the organization. Volunteers, rightly so, become "everyone's job." What's more, staff with expertise and specialization (e.g., communications staff) can focus their talents on optimizing the volunteer journey (e.g., responsible for volunteer recruitment marketing).
When the responsibilities are either too much for one staffer or team, or they are not assigned at all, they won't likely get done. In the end, your volunteer engagement strategy will suffer.
Volunteer Engagement Lifecycle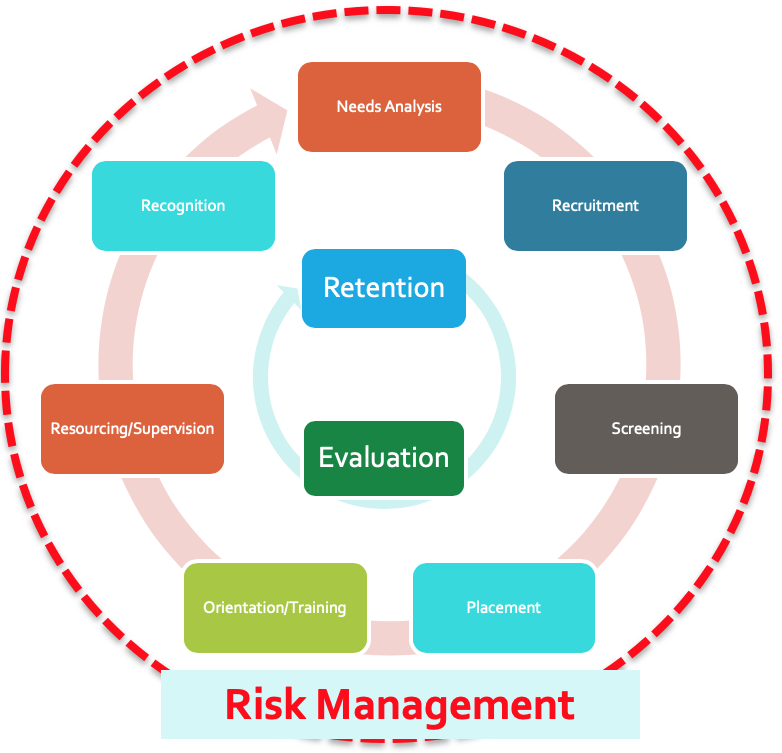 Keep scrolling for a detailed explanation of each step. In addition, risk management, as with any human resources model – paid or unpaid – should be integrated into every step. What could go wrong? What's the likelihood that it will? How harmful could it be? And, what will do to prevent or mitigate the possibility of harm? These questions should be asked at every step.
Key Questions to Fuel Your Volunteer Engagement Strategy
You can start to build your program model by asking some of the key questions I've detailed below for each step. They are deceptively simple, but if you answer them thoroughly, and build the programming and support around them, you will have created a foundation for success.
You may want to add questions or tasks to each step that are uniquely important to address in your program or organization.
Also, volunteerism is a two-way street. Volunteers hope to partner with you to bring about change. So, don't forget to consider volunteer needs at each step, too. In this way, you can proactively promote a positive culture for volunteer involvement that volunteers will love.
Ask yourself these key questions at each step …
Needs Analysis
Why it's Important
Organizations evolve, and your volunteer engagement strategy and program should evolve with it. Assessing your agency's mandate and needs on a regular basis and aligning volunteer roles with your agency's strategic goals and objectives, helps optimize and focus volunteer talent on what really matters right here, right now.
Questions to Ask
What are your organization's goals? Where are there gaps?
What are the risks of volunteer involvement & how will they be mitigated?
How will volunteers help? In which roles?
What infrastructure is needed to support & motivate?
Recruitment
Why it's Important
Successful marketers know when you try to reach everyone, you end up reaching no one. In today's busy, distracted world, a focused approach to volunteer recruitment appeals will have much better results than a "spray and pray" approach that tries to reach the general public. So, focusing on specific audiences that have a greater likelihood of affinity with your cause makes the most efficient use of staff and volunteer recruitment time.
Questions to Ask
Who is your target audience?
Which messages & messengers will appeal to them?
Where can you find them?
What partnerships can help you connect with them?
Screening
Why it's Important
Volunteer screening is a common risk management strategy for nonprofits. Conducting background checks is necessary for roles where volunteers interact directly with vulnerable populations or handle money. But screening can do much more than that. Through interviews you can learn about the needs of potential supporters and gently address any misconceptions about service. It's also a great time to learn more about what motivates each individual.
Questions to Ask
What are the minimum requirements for volunteers? What's nice to have?
How & when does the volunteer want to offer their support?
What are the key motivations of the candidate? What are their needs?
How can you best reward & recognize them in the future?
Placement
Why it's Important
Research shows an individual's continued participation in an organization depends on the alignment of the volunteer's values and beliefs with the nonprofit's norms and values, as well as a solid match between volunteer capabilities and preferences and the tasks assigned. So, taking time to learn about the volunteer and ensuring they're work is complementary is a positive step toward deeper, and more sustained, involvement.
Questions to Ask
What specific role(s) will the volunteers be assigned?
What is their scheduled length of commitment, minimum & maximum?
Who will provide them day-to-day support?
When do they start? What do they need to know beforehand?
Orientation/Training
Why it's Important
Onboarding and training are arguably the most fragile and important part of the new volunteer's journey. During their induction process, they prepare for their work, but what's even more critical is that they form bonds with staff and peers and learn the "unspoken rules" about "how we do things around here." A well-designed volunteer engagement strategy helps convert joiners to active insiders.
Questions to Ask
Who will welcome them to the team?
What specific technical & interpersonal skills do they need for their role?
How will orientation to policies & procedures occur?
How will the training for their role occur, in the classroom & beyond?
Resourcing/Supervision
Why it's Important
While it's tempting to believe that volunteers don't need support and supervision, nothing could be further from the truth. All staff – paid and volunteer – deserve to be given clear instructions, feedback, and support as they complete tasks on behalf of your cause. If you don't lead effectively, people simply won't follow.
Questions to Ask
What tasks will the volunteer do? What is not included in their scope of work?
How many hours a month is the volunteer expected to commit at a minimum?
How will work be delegated – by whom to whom?
Who will directly address problems as they arise? Who is ultimately responsible?
Recognition
Why it's Important
Research has shown that acknowledging the volunteer work is a key driver of positive retention outcomes. An integrated approach of both formal and informal appreciation and rewards let volunteers know their time and talent are highly respected and valued.
Questions to Ask
How will the team leader or supervisor offer support to volunteers?
In what ways will individual volunteers & teams be recognized & thanked?
How will you acknowledge specific achievements, growth & key learning?
What leadership opportunities will be made available to volunteers?
Retention
Why it's Important
While retention is more a result than a step in the volunteer journey, it bears including as it helps you consider the entirety of your volunteer engagement strategy to identify how you will keep volunteers active and engaged throughout the cycle.
Questions to Ask
How will you report program & policy changes to volunteers?
How will you gather suggestions & feedback from volunteers?
How will you address volunteer complaints?
How will you directly address why volunteers leave?
Evaluation
Why it's Important
Evaluation, both at key points (e.g., annually) and at every step of the cycle, can help you pinpoint and address problems early and track your volunteer engagement strategy's progress over time.
Questions to Ask
How will you ensure the ongoing quality of volunteer work?
How will you track volunteer satisfaction over time?
How will you assess where program gaps still exist?
How will you track & report your program goals & achievements?
Culture & Buy-In
Why it's Important
Like retention, fostering a positive culture of volunteer involvement isn't technically a step in the journey, but is nonetheless vital to the success of your volunteer engagement strategy. Volunteer-employee relations and teamwork – or lack thereof – can make or break any strategy no matter how well designed.
Questions to Ask
How will you promote positive & productive volunteer-staff relations?
How will you ensure the ongoing quality of volunteer supervision & support?
How will you ensure that quality program standards & ethical practice are the norm?
What change management strategies will you use to navigate the inevitable evolutions?
At each step, be sure to consider who will be ultimately responsible for implementing the answers to the questions above.
Also, take into consideration how much time each approach will take, if it will cost money (and how much), and how you will know you have been successful. This will help you assess scope and prioritize, as needed.
You may not be able to tackle every stage all at once. Choose one that has the most promise and start there. Once you realize success, your team will be inspired and your momentum will keep you going.
Stay Tuned for Part 2!
In next week's blog, I'll share what should be included in your Operations Plan, or blueprint for volunteer services.
I'll also help you think through the age-old dilemma – in which department should the volunteer program be located? Or, should it be its own entity?
Join me then!