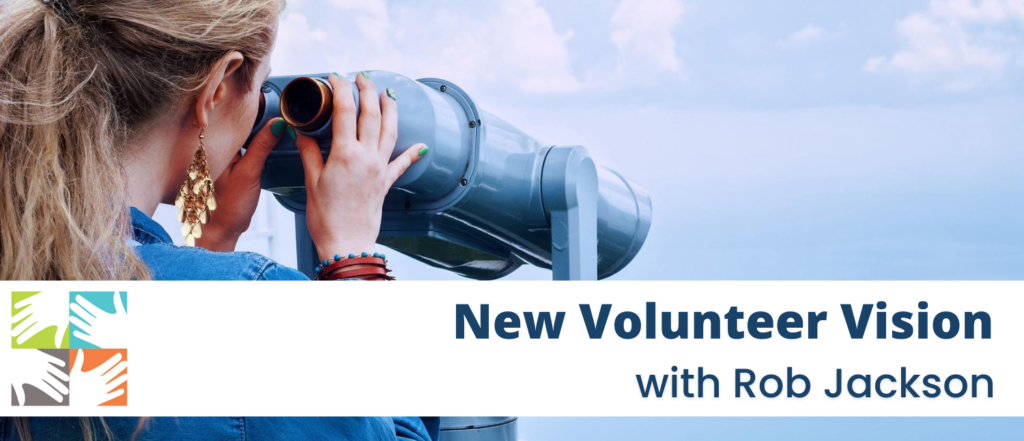 Episode #014: New Volunteer Vision with Rob Jackson
This week, Tobi welcomes guest Rob Jackson to discuss a new post-pandemic volunteer vision, the recently released Vision for Volunteering report, and the future of volunteerism in the U.K.   
New Volunteer Vision for a Post-Pandemic World
We are definitely at a crossroads in the volunteer management sector. The last two years have taught us that some of our established ways of thinking, recruiting, and serving as volunteers are no longer sustainable for the future growth and health of volunteerism.
Faced with this realization, and recognizing the opportunity such a transitional moment presented to change course, five organizations in the UK recently combined their efforts and knowledge to spearhead the creation of the Vision for Volunteering.
This report is an aspirational manifesto on what volunteering could be, and it shares a bold volunteer vision for the future if we all made the commitment to embrace change and take intentional action in the areas of awareness, appreciation, equity, power, inclusion, collaboration, and experimentation.
Rob and Tobi discuss the report's themes and look at how each one affects the success and long-term sustainability of a volunteer program.
Looking at the Horizon with New Volunteer Vision
The report shares three "horizons," and how they will affect the future of volunteering.
Horizon #1 is "business as usual," where we continue doing what we have always done and reap the same results.
Horizon #2 is "disruptive innovation," in which we learn to pivot and try new things as the need arises.
Horizon #3 is "emerging future," when we really begin looking forward to dream and imagine how emerging technology, social movements, and as-yet unimagined advancements can aid the cause of volunteerism.
New Volunteer Vision – This Week's Guest
About Rob Jackson
Rob Jackson is Director of Rob Jackson Consulting Ltd, a consultancy and training company that helps engage and inspire people to bring about change.  
Rob has almost 30 years' experience working in the voluntary and community sector, holding a variety of strategic development and senior management roles that have focused on leading and engaging volunteers.  
Rob has run his company since 2011 working with a wide range of clients in the UK, Australia, New Zealand, Europe, the USA and Canada. Rob is co-author of The Complete Volunteer Management Handbook (DSC, 2012 and 2019) and From The Top Down – UK Edition (Energize Inc., 2015). (Source: RobJacksonConsulting.com) 
About the Vision for Volunteering Report
Published on May 6th, 2022, the Vision for Volunteering is a collaborative effort by NAVCA, NCVO. Volunteering Matters, The Association of Volunteer Managers and Sport England, and offers several aspirational goals about volunteerism and what it should look like in about 10 years.  More than 350 people from more than 300 organizations contributed to the Vision for Volunteering. 
The Vision for Volunteering tackles five key themes – awareness and appreciation of volunteering; power; equity and inclusion; collaboration; and experimentation – and explores how volunteering must adapt and evolve in each area. (Source: Vision for Volunteering)  
Highlights from this Episode
00:01:21 Tobi introduces Rob and shares his background in the volunteer and nonprofit sector.  
00:03:07 Tobi and Rob discuss the Vision for Volunteering, the origins of the study, and how this collaborative effort came to fruition. 
00:13:33 Tobi and Rob take a look at the 5 pillars of the vision: Awareness and Appreciation, Power, Equity and Inclusion, Collaboration, and Experimentation 
00:25:47 Tobi and Rob break down the three "horizons" of the vision:  Horizon 1 (Business as Usual), Horizon 2 (Disruptive Innovation), and Horizon 3 (Emerging Futures) 
00:40:56 Tobi and Rob share some future plans they are most excited about personally. 
Quotes from this Episode
"It's just a very turbulent time, and sometimes turbulence creates disruption, which creates space for change."  
 "Now's the time to press a big reset button. And what the vision does is provide some provocation for the conversation that needs to happen when we press that reset button around volunteering." 
 "We're so terrified of risk, and we're so desperate to avoid it that we design experimentation out of our organizations and away from volunteers. But actually, volunteers remain a really exciting, dynamic potential way for new solutions and new things to be true." 
 "A lot of disruptive innovation to be done, a lot of thinking about where we're going to go in the future if we're going to transform the relationship that we have away from an HR model to a much more volunteer-centric, empowered model." 
 "It's about being intentional. It's about being thoughtful. But this isn't just the job of the leader of volunteer engagement. The whole organization has to think about this. And the only way we're going to make that vision a reality is if everybody gets behind it. " 
"I'm really excited to see how people do the thinking, do the talking. More importantly, do the acting. And there is a way on the Vision for Volunteering website for people to make a commitment about what they're going to do, which I've done already. I'm hoping others are going to, because I'm really excited to see how that begins to build up a head of steam to make some things happen." 
Want More? Check out Our Time + Talent Podcast!

Whether you're looking for solutions, inspiration, or just want to hear what others are doing to successfully engage volunteers, Time + Talent is the podcast for leaders of volunteers.
Co-hosts Tobi Johnson, MA, CVA and Jennifer Bennett, CVA bring you uplifting and insightful conversations with thought leaders and volunteer management practitioners who are redefining their roles, and the roles of volunteers.
About the Show
Nonprofit leadership author, trainer, consultant, and volunteer management expert Tobi Johnson shares weekly tips to help charities build, grow, and scale exceptional volunteer teams. Discover how your nonprofit can effectively coordinate volunteers who are reliable, equipped, and ready to help you bring about BIG change for the better.
If you're ready to ditch the stress and harness the power of people to fuel your good work, you're in exactly the right place!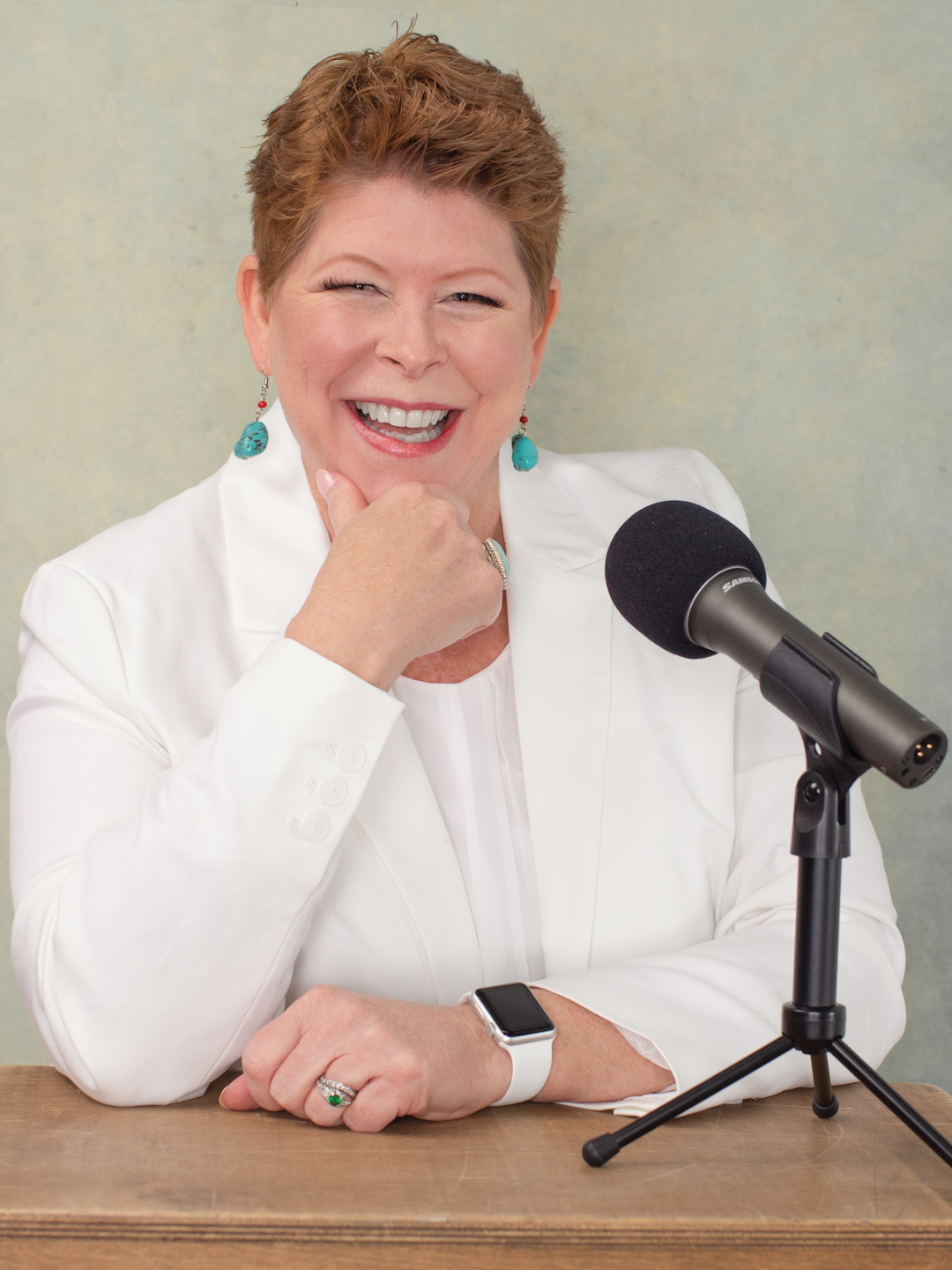 Contact Us
Have questions or suggestions for the show? Email us at wecare@volpro.net.
Rate, Review, & Follow Us on Apple Podcasts
If you love the content Tobi shares on the Volunteer Nation podcast, consider rating and reviewing the show! This helps us reach more people – and help more good causes just like yours – successfully engage enthusiastic, dedicated volunteers with less stress and more joy.
Click here, scroll to the bottom, tap to rate with five stars. Then, select "Write a Review" and let us know what you loved most about this episode!
Also, if you haven't done so already, follow the podcast so you don't miss a thing. Follow now!
Subscribe to ProNews: Our Weekly Resource Roundup
If you'd like to stay up to date on all new podcasts, blogs, freebies, and deals posted on our Tobi Johnson & Associates and VolunteerPro websites, subscribe to our weekly ProNews newsletter.
Every Wednesday, we'll send you a digest of our freshest content, plus a bonus! Once you confirm your subscription, you'll get our [Free eBook] The New Volunteer Manager: The First 90 Days.